Yuz Project Space of Art

Next Door

Yuz Museum, Panlong, Shanghai

April 27 – October 07, 2023 Free Admission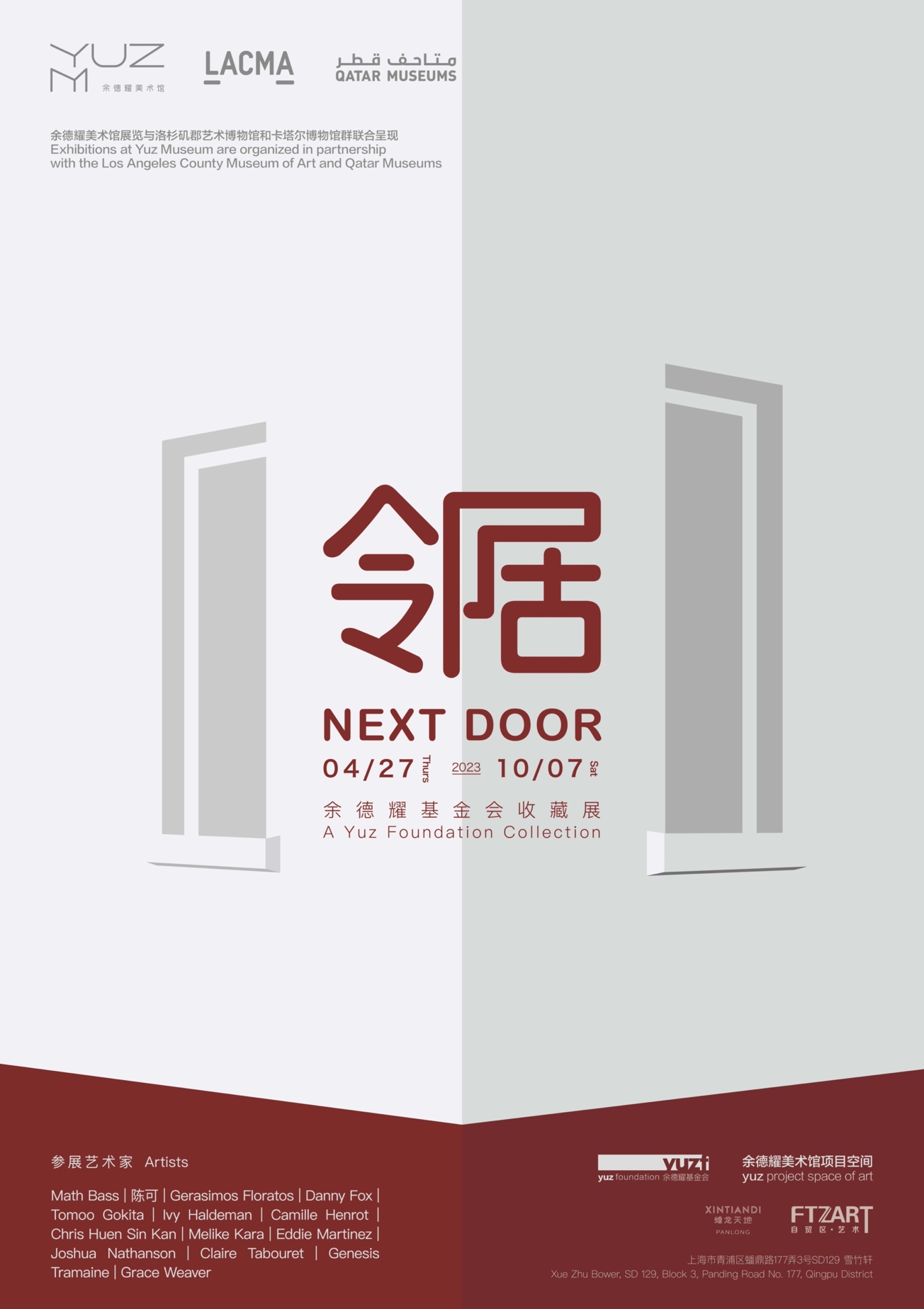 The Yuz Museum, at its 10th anniversary, is entering the second phase of its strategic plan—the new site in Panlong, Shanghai is set to be inaugurated in May 2023. In partnership with Panlong Tiandi, the Yuz Museum is also staging "Yuz Project Space of Art x Xuezhu Bower" as a warm-up for the venue opening during April 27th to October 7th, practicing the "Yuz Flow" strategy. "Next Door" from the collection of the Yuz Foundation will be the first free exhibition in this project.
The Xuezhu Bower, a historical building, is an anchor for the Yuz Foundation to build upon the development philosophy it shares with Panlong Tiandi. The contemporary narratives of the owner Feng Huai, a scholar of the Ming Dynasty, echoes and empowers the three cores of the philosophy— "Culture", "Nature" and "Future", bridging conversations between history and future, the local and the international, and accounting the new dwelling stories unique to Shanghai.
"History" and "Future" are the two key threads developed in parallel in the Yuz collection, and represent the two main concerns of Mr. Budi Tek, the Chinese-Indonesian founder, for the development of contemporary art— "identity construction within local context" and "cultural diversity in globalization". Presenting representitive Chinese stories on the global stage and breaking new ground in mainstream art history are what Mr. Budi Tek held dear in his middle and later stage collection. The exhibition project "Yuz Project Space of Art" was launched in 2015 and has followed the lead of "future", aiming to encourage and promote emerging artists. Shanghai has served as a starting point of "Yuz Project Space of Art" to trigger local and international exchanges and dialogues through a range of commissions, residency programs and indigenous exhibitions.
The exhibition "Next Door" has featured 14 emerging artists from the "Future" section of the Yuz Foundation collection. Their representative works are placed in the context of "placelessness", free from the economic status, races, social resources and other factors perceived to be required for neighbouring. Hence, the imaginary "others", whether alienated or glorified, make their presence felt, defying the physical boundaries, and bringing narratives rooted in diverse cultures and backgrounds to our vision. In this way, the viewers spontaneously amend, dig, and find accounts of "I", depiction of the "world", and orchestration of "me" and the "world".
At the same time, "Next Door" attempts to empower the viewers and mitigate the fear and embarrassment of being the "dwarfed audience" when they step into the realm of art as an "awkward audacious intruder". In this neighbourhood woven by various local stories, the artist and viewer are no longer distant from each other, and one does not have to worry that their genuine and plain observation and curiosity about the neighbours are a manifestation of naiveness. Through the montage of everyday lives, the viewer may be freer to find the "mirrored self" through the dialogue with "next door".
On top of that, the main gallery of the new Yuz Museum will be open to the public in May 2023. The opening exhibition "A Journey" will feature a lineup of works in various mediums by Chinese and international artists, representing a new journey for the museum with a travel through time and space. More information will be released on the museum's official platforms.
Artists

Math Bass, Chen Ke, Gerasimos Floratos, Danny Fox, Tomoo Gokita, Ivy Haldeman, Camille Henrot, Chris Huen Sin Kan, Melike Kara, Eddie Martinez, Joshua Nathanson, Claire Tabouret, Genesis Tramaine, Grace Weaver
About Yuz Project Space of Art

Yuz Project Space of Art (PSA) is an independent program launched in partnership with Yuz Museum in September 2015. Known for public-access, Yuz Project Space of Art invites artists to create site-specific works or projects where it engages boldly with the museum, the surroundings and audiences. Combining "a project + an exhibition," the program aims to present the interaction between the artists, time, and space.
Yuz Project Space of Art is where innovation and creation cross path. It provided an innovative platform for artists, both Chinese and international, to use this space to generate conversations toward each other with their own unique and groundbreaking artworks. Furthermore, the space invites artists to breakthrough their usual practice and explore all kinds of possibilities of Contemporary art.
About Xue Zhu Bower

Xue Zhu Bower is a timber structure courtyard building. The name of the building is to commemorate Huai Feng who was a Ming Dynasty poet in Panlong. A Ming Dynasty scholar named Youguang Gui once wrote a book Xue Zhu Bower of Xue Zhu Bower which has been passed down so far.
Exhibitions at Yuz Museum are organized in partnership with the Los Angeles County Museum of Art and Qatar Museums


About Yuz Museum

Yuz Museum Shanghai, officially opened in May of 2014, is a contemporary art museum founded by Mr. Budi Tek, a Chinese-Indonesian entrepreneur, philanthropist and collector. Yuz Museum is committed to drawing the world's attention to Shanghai, advancing the development of contemporary Chinese art, actively engaging in the field of art education, and promoting cultural dialogues between East and West. As a non-profit institution, the museum aims to serve as a leader in exhibiting contemporary Chinese art and to build a preeminent reputation for contemporary art in China.
Since its opening in 2014, Yuz Museum has been the home of many internationally acclaimed exhibitions such as the world's largest Giacometti Retrospective, the "Rain Room", the Asia premieres of Andy Warhol's "Shadow", KAWS's first institutional exhibition in mainland China "Where the End Starts", "Charlie Chaplin: A Vision", "Yoshitomo Nara", etc. A significant part of the museum's focus is contemporary Chinese art, and it has provided unremitting support to a number of local artists by holding their own solo exhibitions, including "Myth / History:", "Myth / History II: Shanghai Galaxy", "Shanghai Galaxy II", "Twin Tracks: Yang Fudong Solo Exhibition", "Zhou Li: Shadow of the Wind", "Zhou Tiehai: Will / We Must", "Qin Yifeng's Works", etc.
Press Contact: For additional information, contact YUZ Communications at press@yuzmshanghai.org
About LACMA

Located on the Pacific Rim, LACMA is the largest art museum in the western United States, with a collection of more than 149,000 objects that illuminate 6,000 years of artistic expression across the globe. Committed to showcasing a multitude of art histories, LACMA exhibits and interprets works of art from new and unexpected points of view that are informed by the region's rich cultural heritage and diverse population. LACMA's spirit of experimentation is reflected in its work with artists, technologists, and thought leaders as well as in its regional, national, and global partnerships to share collections and programs, create pioneering initiatives, and engage new audiences.
Location: 5905 Wilshire Boulevard, Los Angeles, CA, 90036. lacma.org
Press Contact: For additional information, contact LACMA Communications at press@lacma.org or 323 857-6522
About Qatar Museums

Qatar Museums (QM), the nation's preeminent institution for art and culture, provides authentic and inspiring cultural experiences through a growing network of museums, heritage sites, festivals, public art installations, and programmes. QM preserves, restores, and expands the nation's cultural offerings and historical sites, sharing art and culture from Qatar, the Middle East, North Africa, and South Asia (MENASA) region with the world and enriching the lives of citizens, residents, and visitors.
Under the patronage of His Highness the Amir, Sheikh Tamim bin Hamad Al Thani, and led by its Chairperson, Her Excellency Sheikha Al Mayassa bint Hamad bin Khalifa Al Thani, QM has made Qatar a vibrant centre for the arts, culture, and education in the Middle East and beyond. QM is integral to the goal of developing an innovative, diverse, and progressive nation, bringing people together to ignite new thinking, spark critical cultural conversations, educate and encourage environmental stewardship and sustainable practices, and amplify the voices of Qatar's people. Since its founding in 2005, QM has overseen the Museum of Islamic Art and MIA Park, Mathaf: Arab Museum of Modern Art, the National Museum of Qatar, QM Gallery Al Riwaq, QM Gallery Katara, and the Tasweer Qatar Photo Festival. Future projects include the soon to open 3-2-1 Qatar Olympic and Sports Museum, and Dadu, Children's Museum of Qatar.
Through its newly created Creative Hub, QM also initiates and supports projects—such as the Fire Station Artist in Residence, the Tasweer Qatar Photo Festival and the creative hub for innovation, fashion and design M7—that nurture artistic talent and create opportunities to build a strong and sustainable cultural infrastructure.
Animating everything that Qatar Museums does is an authentic connection to Qatar and its heritage, a steadfast commitment to inclusivity and accessibility, and a belief in creating value through invention.