The Abode of Illusions: The Garden of Zhang Daqian

Yuz Museum Shanghai
November 11th, 2020 – April 11th, 2021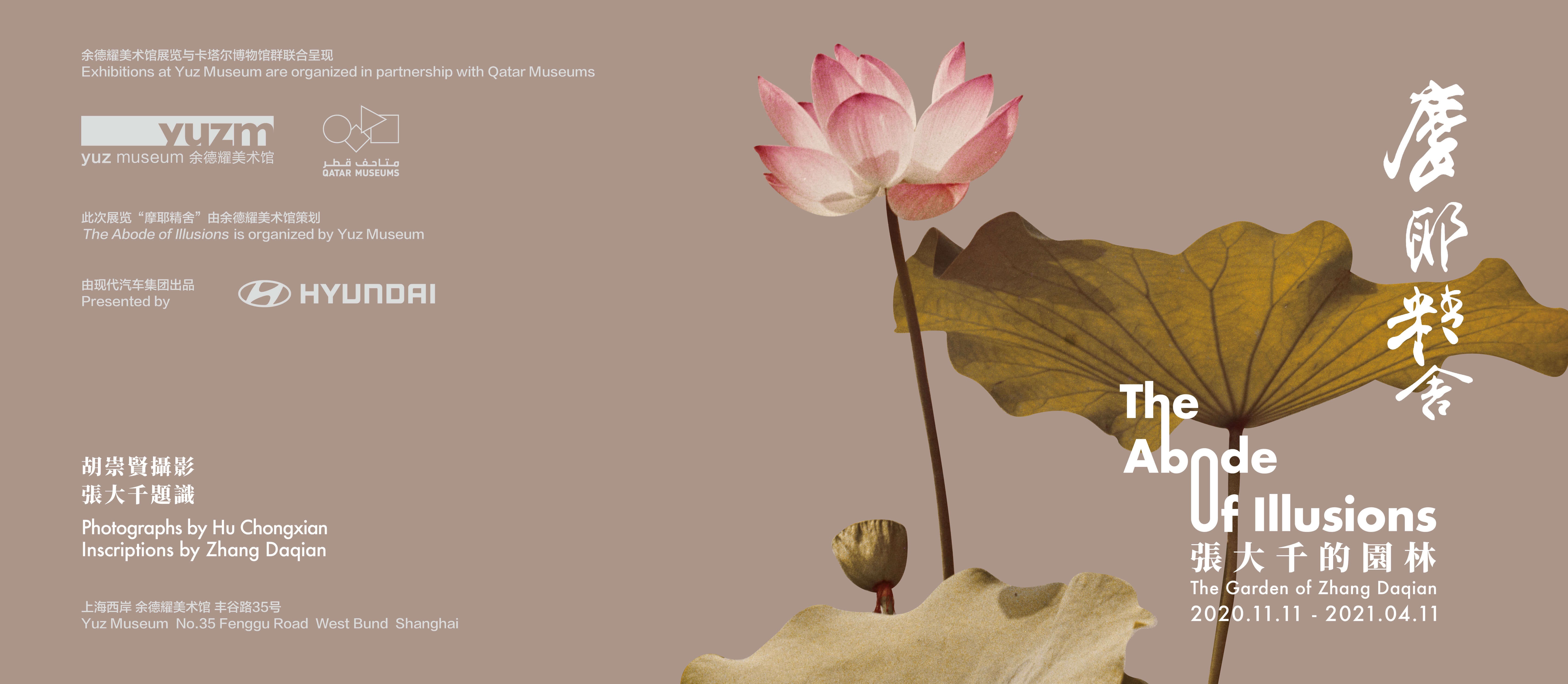 Yuz Museum is honored to present the exhibition "The Abode of Illusions: The Garden of Zhang Daqian" from November 11, 2020 to April 11, 2021, featuring a group of photographs by Hu Chongxian with inscriptions by Zhang Daqian. This is the first time the artworks have been showcased in China since they left nearly 40 years ago.
Zhang Daqian, master of traditional Chinese painting, returned and settled down in Taiwan in his twilight years. He designed and built his last garden in the verdant Waishuangxi in Shilin District, Taipei, and named it Moye Jingshe, translated as Māyā's Abode or the Abode of Illusions. The word moye originates from Buddhist allusion and is the Chinese transliteration of the Sanskrit term māyā which means illusion. Jingshe (abode) generally refers to the place where monks live and conduct meditation and practice. The Abode of Illusions is comprehensive with scenic landscaping elaborately designed by Zhang. The composition of tiny details from every tree and bush craft the epitome of his enthusiasm for nature and the pursuit of aesthetic perfection.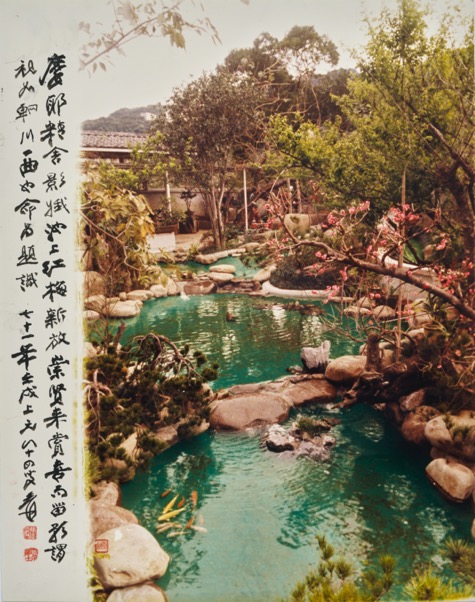 The Abode of Illusions
Hu Chongxian and Zhang Daqian
1982
Ink on photograph
50.8 × 39.8 cm
Collection of Yuz Foundation
A scene in the Abode of Illusions at the Beauty's Pond just as the red plum blossoms began to bloom. Chongxian came by to appreciate them. Overjoyed, he took this photograph which he said resembles the Winding Creek at the Wangchuan Villa and he had me inscribe this.
On the fifteenth day of the first month in the lunar year Renxu (February 8, 1982)
The 84-year-old Venerable, Yuan
Zhang Daqian loved lotus and plum blossoms all of his life and grew rare and precious plants in every corner in the Abode of Illusions. Almost every year from the completion of the garden until 1983, he invited his friend and photographer Hu Chongxian to take photographs in the garden. Regarded in his lifetime as one of the most talented among his generation of twentieth century modern Chinese painters, Zhang was quick to recognize photography's potential as an expressive medium as well as the great influence of the camera on modern art and communication. Hu Chongxian's portrait photography made up the main focus of his career, yet in his fine art photography he captured alluring scenery with his camera rather than paint brushes and sought to evoke the feeling of truth, goodness and beauty found in the artistic conception of Chinese painting. His work was welcomed by many artists and literati, and highly appreciated and affirmed by Zhang Daqian. Hu's compositions refer to the tradition of ink painting. To capture the natural "gesture" of the plum blossoms and lotus, he eliminated all distracting elements: he inserted blank backdrops behind each of his subjects, from groups of branches to single blooms, an echo of the white paper and silk that made up the background of so many of Zhang's flower paintings, and waited for the optimum wind and weather to bring out the mood that would best express the essence of the blossoms. After developing and enlarging the film, Zhang Daqian inscribed each photograph with running cursive calligraphy, and to make the photography more picturesque, the two artists signed and stamped each one with the seals typically used in Chinese ink painting.
Most of the plum blossoms under Hu Chongxian's lens were shot upwards to illustrate distinct beauty of plum blossoms: gnarled, slanting, and sparse. Borrowing compliments from the Song poet Yang Dongshan's essay "On the Plum Blossom (Mei-hua-shuo)," Zhang inscribed, "To paint the form of a plum blossom is but to paint its portrait; to convey its personality is to convey its spirit" to praise Hu's images for not only depicting the shape of plum blossoms, but more importantly, for capturing its inner spirit: "He should be considered a great master in our time."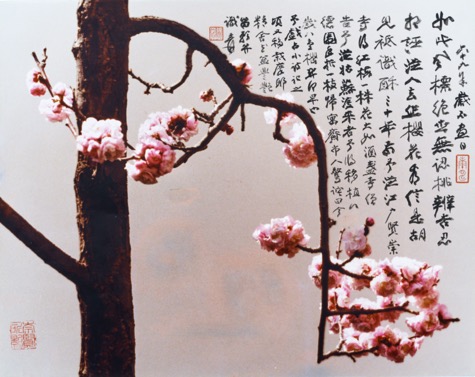 Her Captivating Appearance
Hu Chongxian and Zhang Daqian
1980
Ink on photograph
40.3 × 50.8 cm
Collection of Yuz Foundation
Her captivating appearance is unmatched in all the world.
Though some think her a peach blossom, some think her an apricot – She bears well such ingratitude.
Someone regarded her as if she were a cherry blossom,
But I'm convinced barbarians only recognize surface beauty.
Thirty years ago, I obtained a red plum blossom tree from the Temple for Venerating Worthies in Tokyo. Its blossoms were as large as wine-cups. A monk in the temple told me that it has been brought over from Suzhou. I bought it and planned to transplant it in the Garden of Eight Virtues, and also broke off a branch and brought it into my studio. A local person expressed surprise and said, "How early in the year for an eight-layered cherry blossom to be in bloom!" I therefore wrote this poem in a playful spirit to record this. Recently, I again transplanted the tree to the Abode of Illusions, where it has flourished even more.
I have had this photo taken in remembrance and inscribed this.
Yuan
Towards the end of 1980
In the artwork Her Captivating Appearance, Hu Chongxian shot a potted red plum blossom tree in bloom with an exquisite composition featuring the clusters of red plums standing erect and proud on the bold branches. Zhang Daqian was keen on collecting precious varieties of plum trees. He obtained this one from the Temple for Venerating Worthies in Tokyo and planted it in Brazil in Bade Yuan (the Garden of Eight Virtues, Zhang's residence from 1954 to 1970). Afterwards it was transplanted in America, and then traveled overseas again to the Abode of Illusions. It was mistaken for an eight-layered cherry as its blossoms were as large as wine-cups. Zhang praised that the rebloom of the red plum seen through Hu's lens flourished even more than previous blooms. In response, he quoted Su Dongpo's jest to Shi Manqing's poem "I cannot recognize it [red plum] as peach because it does not have green leaves, nor as apricot because it has extra green branches." He mourned that people only saw the beauty of the surface rather than the uniqueness of plums innate qualities. Zhang carefully considered the empty space in the image and skillfully inscribed a playful poem he had written to record this story from thirty years prior in the upper right corner. The brush strokes are powerful and vivid, appealing to the viewer with dramatic allure.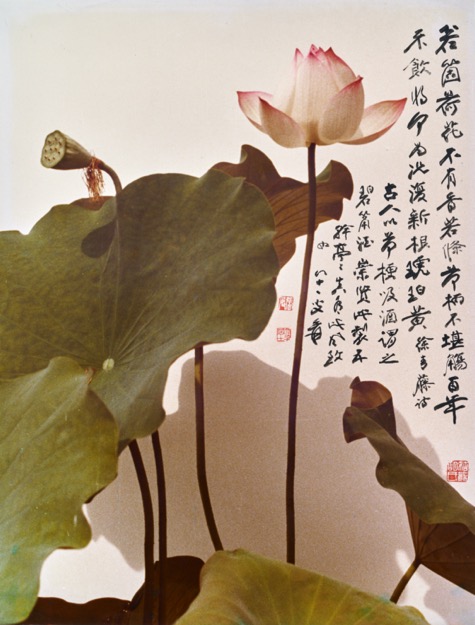 Jade Green Straws
Hu Chongxian and Zhang Daqian
c. 1979
Ink on photograph
50.5 × 39 cm
Collection of Yuz Foundation
Is there any lotus without a fragrance?
Is there any stalk which couldn't serve as a straw?
Where would I be if I could never drink?
And what would become of these new sprouts and the yellow amber wine?
– A poem by Xu Qingteng
The ancients used lotus stalks to draw forth wine. They called it "wine from jade green straws." Chongxian arranged these five stalks which stand so erect. Truly he has captured the beauty of this idea.
The 81-year-old Venerable, Yuan
When summer came, cylinders of pink and white lotus flowers were in full bloom, which Hu captured with his poetic photographic creations. For lotus photography, Hu focused on the overall composition of lotus leaves, stems and flowers, rather than a single blossom. In the image Jade Green Straws, the stems and leaves stand erectly and are brightly colored, with distinct shades and clear lines. The strength of the stems and leaves emphasizes the delicate flowers. Zhang related the uprightness of the stalks to the anecdote that in ancient times lotus stalks were used to draw forth wine. He quoted the famous Ming dynasty painter and literati Xu Wei's poem to express the elegance and delight of this work. Zhang drew references and poems from the history of Chinese literature to serve as his inscriptions and praised Hu many times, saying "Marvelously photographed by Chongxian." The compliment expresses Zhang's respect and admiration for Hu's practice.
The plum blossom and lotus photographs Hu shot at the Abode of Illusions marked his first venture into color photography and Zhang added inscriptions in response to every single one. The two artists were of one mind and connected through a shared aesthetic conception of Chinese literati painting that emphasized poetry, calligraphy and painting and that took shape through a new medium. The breathtaking works that were a result of this shared conception by the prodigious artist and prominent photographer were exhibited many times with the publication of portfolios and catalogues from 1978 and 1982 at the National Museum of History in Taipei. Most of the works exhibited entered into a private collection in the United States and were on showcase in 1983 at the Pacific Asia Museum, Pasadena, California under the title "The Abode of Illusions – The Garden of Chang Ta-Ch'ien." The Pacific Asia Museum also published the catalogue for the exhibition. Dr. Richard E. Strassberg, then Adjunct Curator of Chinese Art, Pacific Asia Museum and Associate Professor of Chinese, University of California, Los Angeles, translated Zhang Daqian's inscriptions, signatures, and seals into English in addition to providing a translator's introduction, which then became an important research resource for this group of works. At the beginning of 2019, Yuz Foundation acquired the nearly seventy immaculately-preserved original works directly from the family of the original collector.
As a collaboration between the photographer and the calligrapher, these rare prints of the Abode of Illusions simultaneously serve as documentation of Zhang's garden and the ways in which Hu Chongxian's artistic approach aroused Zhang's reflection and response. These artworks are also windows into the painter's inner self in his later years, expressed in Zhang Daqian's classical Chinese inscriptions, replete with references to the rich history of Chinese poetry and painting. They offer forth photography as a new visual language in traditional Chinese expression, connecting its development to a continuation of Chinese tradition in the context of modern culture. Given increasingly accelerated contemporary society, this group of artworks flourishes again, standing aloof from the world and leading us to look back and consider the spiritual dreamland that traditional Chinese literati yearned for. Artists observe life, create based on natural phenomena, and empathize with nature. May their comprehension of daily life, concern for others, and interpretation of beauty evoke new inspiration in the present.
About Artists

Hu Chongxian

Hu Chongxian (1912-1989, Hu Chung-hsien) was born in Suzhou, Jiangsu Province. From childhood he loved art and acquired photography and darkroom techniques in his youth. He then worked as a reporter at a newspaper Suzhou Mingbao and set up the first portrait photography studio in Suzhou. As an emerging photographer, his portraiture was novel and attractive, leading the trend of Chinese portrait photography at the time. Later, he served in the Lizhi Association (Officer's Moral Endeavor Association), which allowed him to document many significant historical moments as well as capture important portraits, and won first prize in portraiture at the San Francisco International Photographic Exhibition. He simultaneously followed his passion and captured marvelous sceneries, natural landscapes, flowers and vegetation with his camera rather than paint brushes. He sought to evoke a feeling of truth, goodness and beauty in artistic conception of Chinese painting and devoted himself to photography and the arts, gradually focusing on fine art photography. Hu's work has been appreciated and welcomed by many artistic masters, such as Huang Junbi, Lang Jingshan, Wu Zishen, Zhang Daqian and many more, all of whom inscribed his photographs. Hu Chongxian and Zhang Daqian met in Taipei and collaborated on many artworks in his later years. Hu was invited to take photographs of the landscapes at Zhang's residence the Abode of Illusions, most especially lotus and plum blossoms. This marked Hu Chongxian's first venture into color photography. Zhang Daqian inscribed each image with poems, representing a remarkable collaboration between the prodigious artist and prominent photographer. From 1971 to 1983, Hu Chongxian held many exhibitions at Zhongshan Hall in Taipei, National Museum of History in Taipei, Pacific Asia Museum in California, USA with the publication of related portfolios and catalogues.
Zhang Daqian

Zhang Daqian (1899-1983, Chang Dai-chien/Chang Ta-chien) also known as Zhang Yuan, courtesy name Jiyuan, Buddhist name Daqian, and courtesy name Daqianjushi (Lay Scholar Daqian), was born in Neijiang, Sichuan Province. He was one of the most famous and gifted masters of traditional Chinese painting in modern China. He was also proficient in calligraphy, poetry, art connoisseurship, gardening and other related fields. Zhang's painting involved many genres, and he excelled in all kinds of portraits, landscapes, and details of flowers and birds. He was skilled in both Gongbi painting (meticulous and tidy brushstrokes) and Xieyi painting (a more abstract sketching of thoughts). In his twilight years, he devoted himself to make breakthroughs in painting method and style. He innovated the color and ink splashing method, which distinguishes him from other painters, infusing new possibilities into traditional Chinese painting. This caused a significant upheaval in the art world in China and abroad.
Zhang Daqian was taught how to paint as a child by his mother, sister, and brothers. At an early age, he went to Japan to study textile art. After returning to China, he settled in Shanghai and followed calligraphers Zeng Xi and Li Ruiqing as his mentors. He studied painting, calligraphy, poetry, and seal engraving. Simultaneously, he learned from history, conducting research into ancient relics and facsimiles from which he absorbed the quintessence of the masters. He co-founded Da Feng Tang with his brother Zhang Shanzi, accepting apprentices. From the 1920s, Zhang held exhibitions in many places in China and gradually obtained fame and built his reputation. In his thirties, he traveled to famous mountains and rivers in China, creating artworks based on natural phenomenon. He spent nearly three years travelling in Dunhuang in the west of Longxi to investigate and make facsimiles of the ancient grotto murals. In the 1950s, Zhang left China with his family and sojourned in India, South America, North America and other places, living abroad for nearly 30 years. During this period, he held exhibitions worldwide and gained a huge following internationally. In his later years, he moved back to Taipei, and built his last garden the Abode of Illusions, where he took inspiration from his idyllic life and continued his prolific creation of paintings and calligraphy works until he passed away in 1983. He was buried under the Plum Blossom Hill at the Abode of Illusions.
* Chinese Phonetic Alphabet (Pinyin) has been used in this article.
Exhibitions at Yuz Museum are organized in partnership with Qatar Museums

The Abode of Illusions is organized by Yuz Museum
Presented by

About Yuz Museum
Yuz Museum Shanghai, officially opened in May of 2014, is a contemporary art museum founded by Mr. Budi Tek, a Chinese-Indonesian entrepreneur, philanthropist and collector. The museum is located on Shanghai's West Bund and plays an important role in the West Bund Cultural Corridor. Yuz Museum is committed to drawing the world's attention to Shanghai, advancing the development of contemporary Chinese art, actively engaging in the field of art education, and promoting cultural dialogues between East and West. As a non-profit institution, the museum aims to serve as a leader in exhibiting contemporary Chinese art and to build a preeminent reputation for contemporary art in China. Designed by acclaimed Japanese architect, Sou Fujimoto, the museum was renovated from an old hangar of the former Shanghai Aircraft Manufacturing Factory.
Location: 35 Fenggu Rd, Xuhui District, Shanghai, China 200232. yuzmshanghai.org
Press Contact: For additional information, contact YUZ Communications at press@yuzmshanghai.org or +86 021-64261901
About Qatar Museums
Qatar Museums (QM) is Qatar's preeminent institution for arts and culture dedicated to providing authentic cultural experiences through an expanding network of museums, heritage sites, festivals, public art and programming.
Under the patronage of His Highness the Amir, Sheikh Tamim bin Hamad Al Thani, and led by its Chairperson, Her Excellency Sheikha Al Mayassa bint Hamad bin Khalifa Al Thani, QM seeks to preserve and enlarge the cultural endowment of Qatar; share its arts and culture with the world and enrich the life of every citizen through access to local, regional and global perspectives. Since its founding in 2005, QM has overseen the development of museums, cultural institutions and heritage sites in Qatar including: The Museum of Islamic Art, Mathaf: Arab Museum of Modern Art, Fire Station: Artists in Residence, The National Museum of Qatar, and the Al Zubarah World Heritage Site Visitor Centre. Future projects include the launch of the highly anticipated 3-2-1 Qatar Olympic and Sports Museum.
About Hyundai Motor's Art Project
Hyundai Motor has been supporting art initiatives driven by long-term partnerships with global museums―the National Museum of Modern and Contemporary Art, Korea (MMCA), Tate and the Los Angeles County Museum of Art (LACMA) since 2013. The aim is to support the development of the global art scene and contribute to the establishment of a sustainable art environment, delivering inspiration and unique experiences to the world. The newly established Hyundai Tate Research Centre: Transnational will aim to encourage innovative ways of thinking about art and global art histories. With global media group Bloomberg, Hyundai connects international audiences with artists exploring the convergence of art and technology. Also, Hyundai has been a major sponsor for the Korean Pavilion at the Venice Biennale 2015, 2017, 2019 and the 20th and 21st Biennale of Sydney.
About Hyundai Motor Company
Established in 1967, Hyundai Motor Company is committed to becoming a lifetime partner in automobiles and beyond with its range of world-class vehicles and mobility services available in more than 200 countries. Hyundai sold more than 4.5 million vehicles globally in 2018 and is currently employing more than 110,000 employees worldwide. Hyundai Motor continues to enhance its product line-up with vehicles that are helping to build solutions for a more sustainable future, such as NEXO, the world's first dedicated hydrogen-powered SUV.
More information about Hyundai Motor and its products can be found at: http://worldwide.hyundai.com or http://globalpr.hyundai.com