Bordercrossing: Possibilities and Interactions

Yuz Museum, Panlong, Shanghai

September 3rd- October 8th, 2023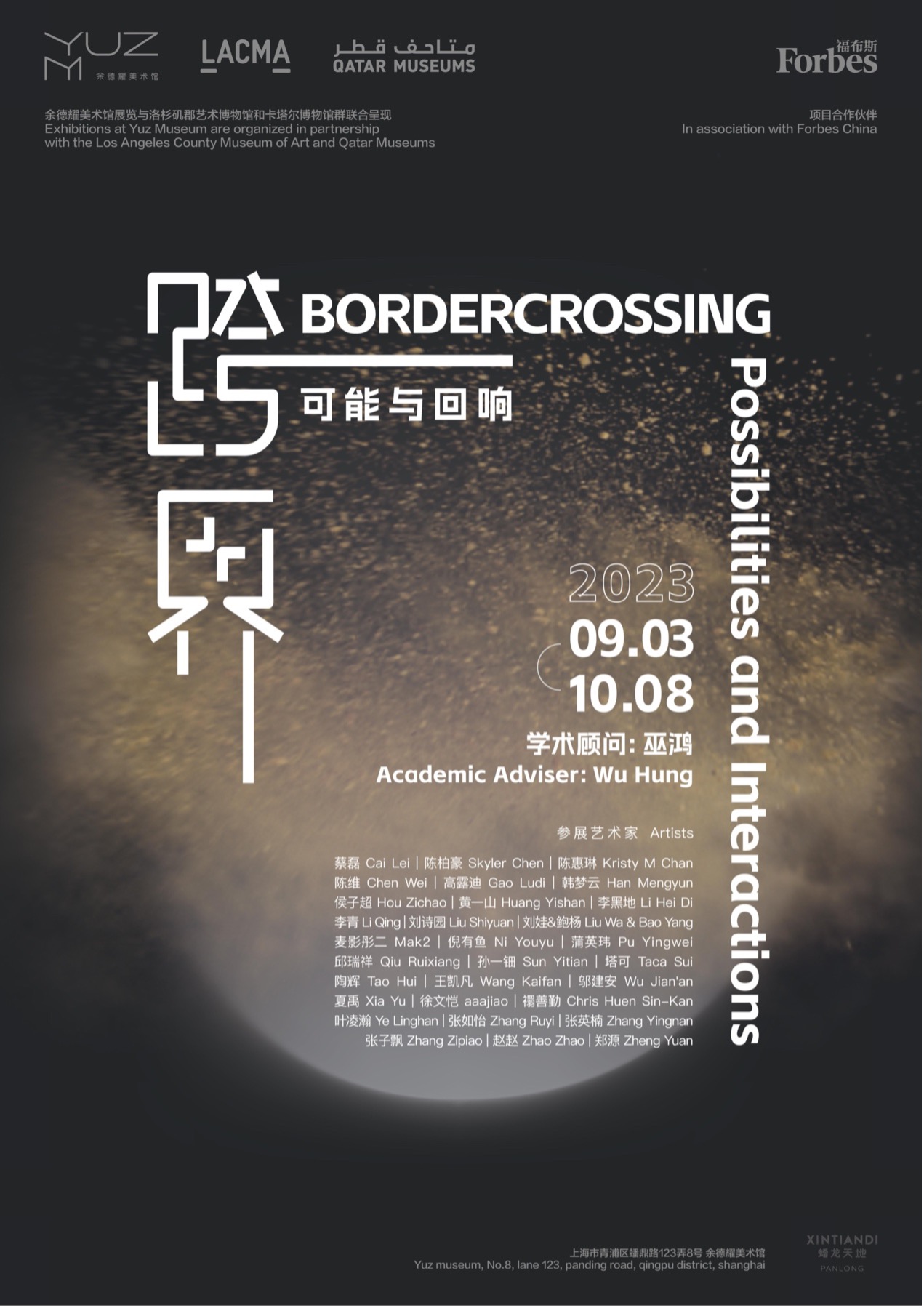 Yuz Museum is pleased to present "Bordercrossing: Possibilities and Interactions," in partnership with Forbes China, from September 3rd to October 8th, 2023 at Yuz Museum. This group exhibition seeks to examine the idea of Yuz Museum that "as we write today's history, we are writing tomorrow's" , as well as to investigate its concept of "Yuz Flow". With such experimental collaboration, Yuz intends to present the outward exploration by the art world and the examination of the art world by others.
With the technological singularity looming, the wrestling between living and non-living things has quietly diffused in our lives. Thoughts are constantly materialized into flowing data and instant images. Bodies are activated between tabs and windows. The only certainty of today is that we are moving from "certainties" to "possibilities". Among these "possibilities", we transcend the physical body through technology and gain the dual vision of Janus, looking both forwards and backwards. Observations and responses to such trends are expressed in the aforementioned group exhibition at Yuz.
Thirty groups of artists born between the 1980s and 1990s will present their process of crossing the boundary between reality and imagination, garden-crafting the current social landscapes and the inner world of the modern individuals. This exhibition offers a panorama of expressions by the younger generation in the context of globalization. The artworks manifest an expansion across multiple dimensions such as themes, mediums, audiences; the trend of decentralized creation that focuses on human "commonality" and how contemporaneity shifts between the past and the future. Viewers will launch their personalized "fieldwork" involving notions of nature, ruins, artifacts, and digitization, and observe how human beings navigate the modern jungle through the means of art.
30 Forbes Artists

Cai Lei|Skyler Chen|Kristy M Chan|Chen Wei|Gao Ludi|Han Mengyun|Hou Zichao| Huang Yishan|Li Hei Di|Li Qing|Liu Shiyuan|Liu Wa & Bao Yang|Mak2|Ni Youyu|Pu Yingwei|Qiu Ruixiang|Sun Yitian|Taca Sui|Tao Hui|Wang Kaifan|Wu Jian'an|Xia Yu|aaajiao|Chris Huen Sin-Kan|Ye Linghan|Zhang Ruyi|Zhang Yingnan|Zhang Zipiao|Zhao Zhao|Zheng Yuan
Academic Adviser Wu Hung

WU HUNG is a leading art historian in the world as well as a famous contemporary art critique and curator. An elected member of the American Academy of Art and Science and the American Philosophic Society, he is the founder and director of the Center for the Art of East Asia at the University of Chicago, and also sits on multiple international committees. His research interests include both traditional and contemporary Chinese art, and he has published many books and curated many exhibitions in these two fields. He has received many awards for his publications, exhibitions, and academic services, including the Distinguished Teaching Award (2008) and Distinguished Scholar Award (2018) from the College of Art Association (CAA), an Honorary Degree in Arts from Harvard University (2019), and the Distinguished Lifetime Achievement Award for Writing on Art from CAA (2022).
About Yuz Museum

Yuz Museum Shanghai, officially opened in May of 2014, is a contemporary art museum founded by Mr. Budi Tek, a Chinese-Indonesian entrepreneur, philanthropist and collector. Yuz Museum is committed to drawing the world's attention to Shanghai, advancing the development of contemporary Chinese art, actively engaging in the field of art education, and promoting cultural dialogues between East and West. As a non-profit institution, the museum aims to serve as a leader in exhibiting contemporary Chinese art and to build a preeminent reputation for contemporary art in China.
Since its opening in 2014, Yuz Museum has been the home of many internationally acclaimed exhibitions such as the world's largest Giacometti Retrospective, the "Rain Room", the Asia premieres of Andy Warhol's "Shadow", KAWS's first institutional exhibition in mainland China "Where the End Starts", "Charlie Chaplin: A Vision", "Yoshitomo Nara", etc. A significant part of the museum's focus is contemporary Chinese art, and it has provided unremitting support to a number of local artists by holding their own solo exhibitions, including "Myth / History:", "Myth / History II: Shanghai Galaxy", "Shanghai Galaxy II", "Twin Tracks: Yang Fudong Solo Exhibition", "Zhou Li: Shadow of the Wind", "Zhou Tiehai: Will / We Must", "Qin Yifeng's Works", etc.
Press Contact: For additional information, contact YUZ Communications at press@yuzmshanghai.org
About Forbes China

Forbes China is a business media platform with innovation as its core, and it regards Sociality, Inspiration, Networking, and Objectivity as its value attributes. Forbes China has launched a large amount of content on business, technology, investment, lifestyle, and is committed to not only providing readers with industrial insights, but also encouraging innovators to create more business and social value.
About LACMA

Located on the Pacific Rim, LACMA is the largest art museum in the western United States, with a collection of more than 149,000 objects that illuminate 6,000 years of artistic expression across the globe. Committed to showcasing a multitude of art histories, LACMA exhibits and interprets works of art from new and unexpected points of view that are informed by the region's rich cultural heritage and diverse population. LACMA's spirit of experimentation is reflected in its work with artists, technologists, and thought leaders as well as in its regional, national, and global partnerships to share collections and programs, create pioneering initiatives, and engage new audiences.
Location: 5905 Wilshire Boulevard, Los Angeles, CA, 90036. lacma.org
Press Contact: For additional information, contact LACMA Communications at press@lacma.org or 323 857-6522
About Qatar Museums

Qatar Museums (QM), the nation's preeminent institution for art and culture, provides authentic and inspiring cultural experiences through a growing network of museums, heritage sites, festivals, public art installations, and programmes. QM preserves, restores, and expands the nation's cultural offerings and historical sites, sharing art and culture from Qatar, the Middle East, North Africa, and South Asia (MENASA) region with the world and enriching the lives of citizens, residents, and visitors.
Under the patronage of His Highness the Amir, Sheikh Tamim bin Hamad Al Thani, and led by its Chairperson, Her Excellency Sheikha Al Mayassa bint Hamad bin Khalifa Al Thani, QM has made Qatar a vibrant centre for the arts, culture, and education in the Middle East and beyond. QM is integral to the goal of developing an innovative, diverse, and progressive nation, bringing people together to ignite new thinking, spark critical cultural conversations, educate and encourage environmental stewardship and sustainable practices, and amplify the voices of Qatar's people. Since its founding in 2005, QM has overseen the Museum of Islamic Art and MIA Park, Mathaf: Arab Museum of Modern Art, the National Museum of Qatar, QM Gallery Al Riwaq, QM Gallery Katara, and the Tasweer Qatar Photo Festival. Future projects include the soon to open 3-2-1 Qatar Olympic and Sports Museum, and Dadu, Children's Museum of Qatar.
Through its newly created Creative Hub, QM also initiates and supports projects—such as the Fire Station Artist in Residence, the Tasweer Qatar Photo Festival and the creative hub for innovation, fashion and design M7—that nurture artistic talent and create opportunities to build a strong and sustainable cultural infrastructure.
Animating everything that Qatar Museums does is an authentic connection to Qatar and its heritage, a steadfast commitment to inclusivity and accessibility, and a belief in creating value through invention.