Yuz Project Space of Art
Jennifer West: "Is Film Over?"

Yuz Museum, West Bund Shanghai
March 18, 2017 – June 17, 2017

Yuz Museum is glad to present the Yuz Project Space of Art exhibition of Jennifer West "Is Film Over?" from March 18th to June 17th, 2017. Jointly organized by Yuz Museum and Los Angeles County Museum of Art in close collaboration with the artist, this will be Jennifer West's first museum exhibition in China. Five films from 2009 to 2016 representing the artist's cross-platform thinking will be shown in the gallery, drawing from a diverse range of approaches in her artistic practice, from her intensely haptic works that involve fluids and stains of all sorts, to her more recent ruminations on film and memory.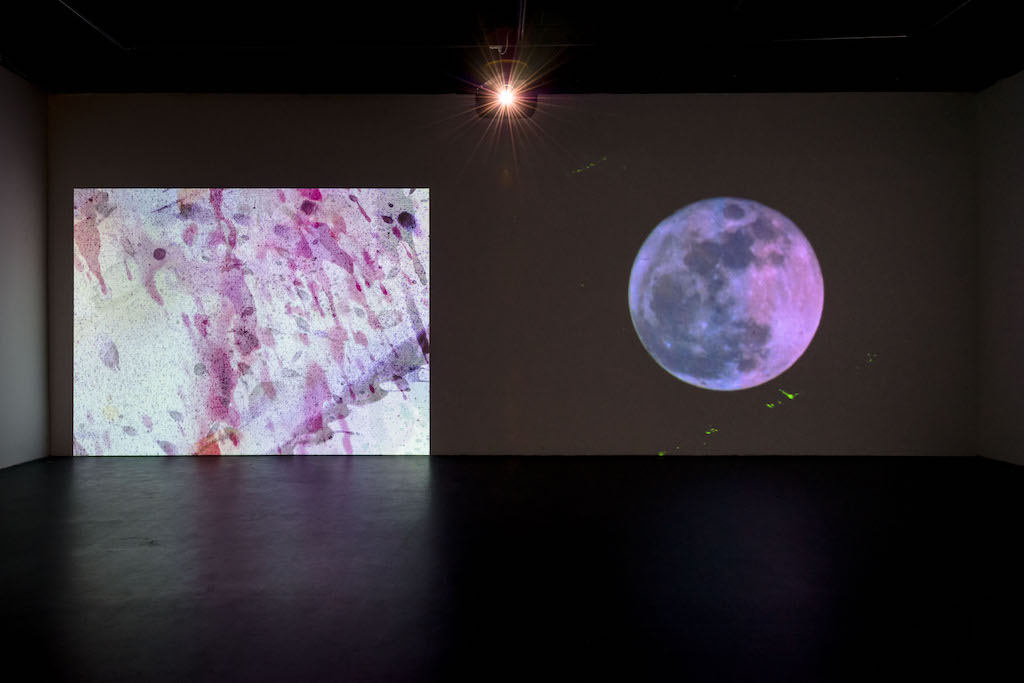 Jennifer West: Is Film Over?, installation view in Yuz Museum, 2017
West came out of DIY media scenes in the Pacific Northwest in 1990s, where a robust community of individuals screened and circulated audio and videotapes. As an artist and professor now teaching a generation of digital natives, she keeps on using her films, installations, performance, lectures, and writing to engage with the complexities of the total cognitive, psychic, and aesthetic shift in our understanding, perception, and uses of the recorded image.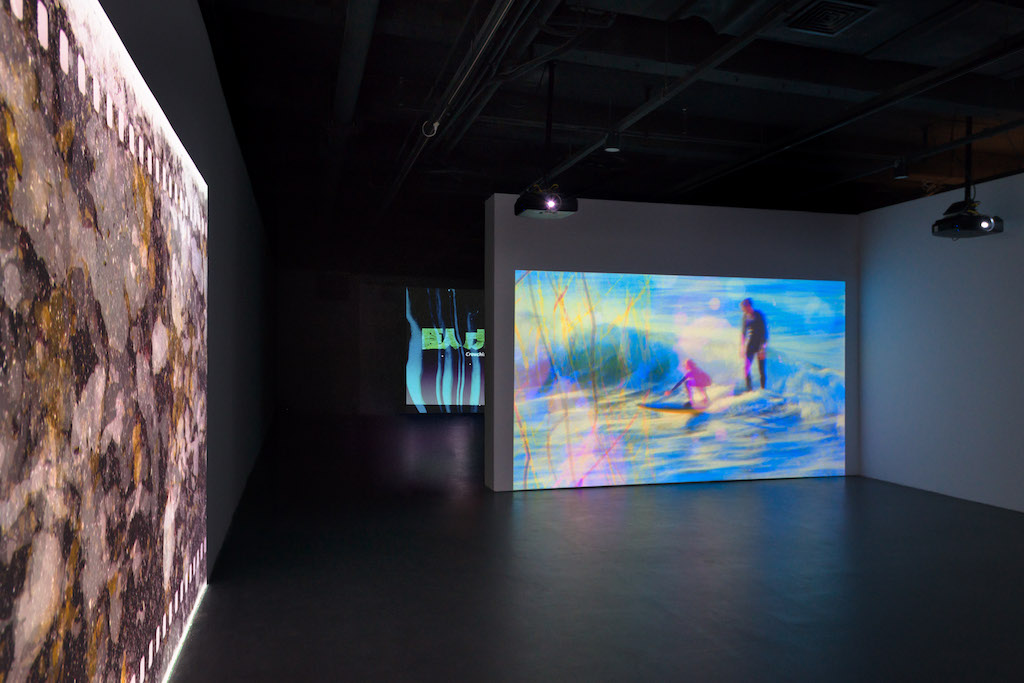 Jennifer West: Is Film Over?, installation view in Yuz Museum, 2017
In drawing from the music and art movements of the region as well as merging the distinct qualities of film and video to explore how the physicality of materials or actions is transferred into digital space, the artist also wants to break down the hierarchy of expertise. Her projects from the very beginning and up to the present involve collective engagement, inviting participants to perform with or intervene on the filmstrip. The early synesthetic experiments of her involved marinating, treating, and performing with film stocks before transferring the materials to video with the help of other artists, family (many of whom are also artists), and friends.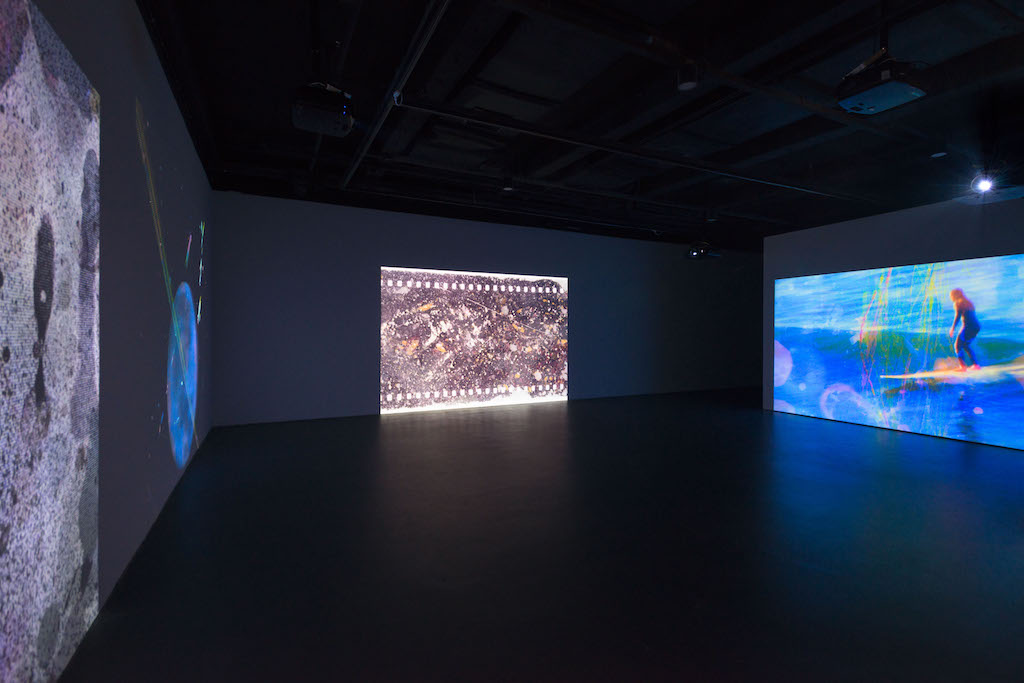 Jennifer West: Is Film Over?, installation view in Yuz Museum, 2017
As West said it, "I want to be that bridge that's somewhere between art and film and movies, flipping the production and reception of these mediums around. I've invested in all the ways in which I can make commentary through it, with it and reflect upon its relation to the world and to that place between art and film."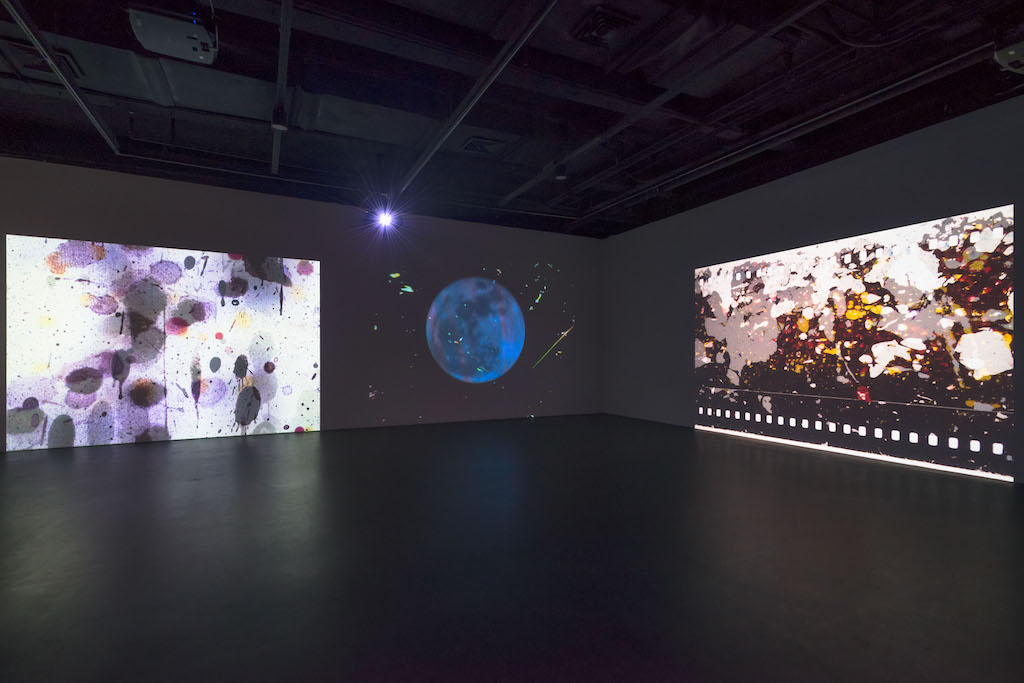 Jennifer West: Is Film Over?, installation view in Yuz Museum, 2017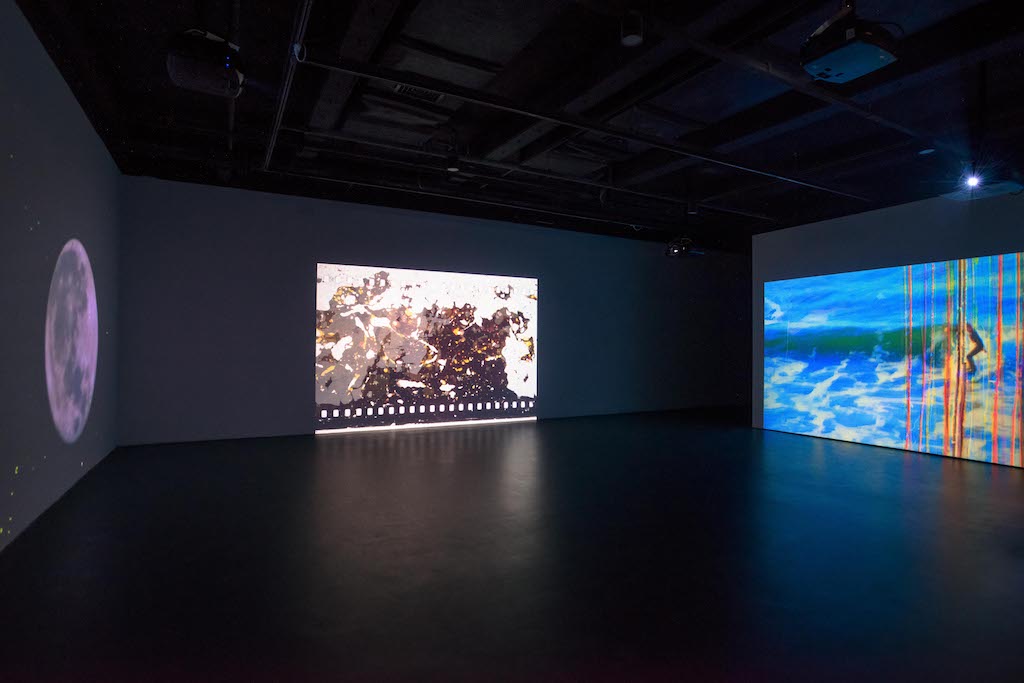 Jennifer West: Is Film Over?, installation view in Yuz Museum, 2017
About the Artist
Born in Topanga, California, Jennifer West received an MFA from Art Center College of Design in Pasadena, California, and a BA with film and video emphasis from the Evergreen State College in Olympia, Washington. West lives and works in Los Angeles. Significant commissions include Seattle Art Museum, Seattle, 2016-2017; Institute of Contemporary Arts, Art Night, London, 2016; High Line Art, New York, 2012; Aspen Art Museum, Aspen, 2010; and Turbine Hall at TATE Modern, London, 2009. West has exhibited widely in museums and art institutions internationally. Her solo exhibitions include: "Film is Dead…", Seattle Art Museum, Seattle, 2017; "Action Movies, Painted Films and History Collage", Museo d'Arte Provincia di Nuoro, Nuoro, 2017; "Flashlights Filmstrips Projections", Tramway, Glasgow, 2016; "Paintballs and Pickle Juice", Kunstverein Nürnberg, Nuremberg, 2010; "Perspectives 171: Jennifer West", Contemporary Arts Museum, Houston, 2010; "White Room: Jennifer West", White Columns, New York, 2007 and etc. Group shows include: Whitney Museum, New York, 2017; Carnegie Museum of Art, Pittsburgh, 2015; Palais de Tokyo, Paris, 2013; Schirn Kunsthalle, Frankfurt, 2010; Musee d'Art Contemporain (CAPC), Bordeaux, 2008; and ZKM Museum for New Media, Karlsruhe, 2007. 
About Yuz Project Space of Art
Yuz Project Space of Art is an independent program of Yuz Museum's exhibitions, which opens to the public in September 2015. Yuz Project Space of Art invites artists to make site-specific works or projects, engaging boldly with the museum, its surroundings and its audience. Combining "a project + an exhibition", the artist interacts actively with the space and aims to present the moment when contemporary art is happening. 
Yuz Project Space of Art is the place where innovation, invention, and a new movement happen in the pathway of an artist. It aims to provide another platform for Chinese and international artists to exhibit their artworks as well as more opportunities to communicate with each other. Yuz Project Space of Art invites the artist to get inspired with new ideas by engaging himself with the museum space and try making some breakthrough artworks that are different from his own line.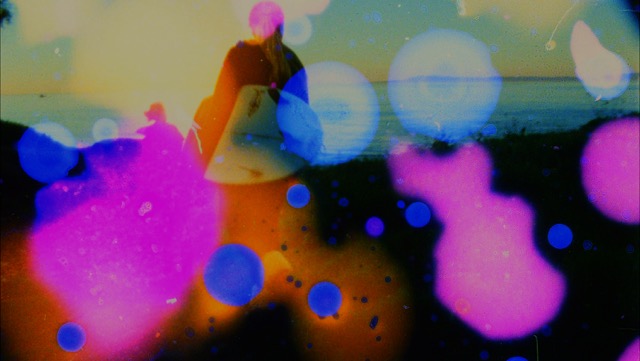 Dawn Surf Jellybowl Film (16mm film negative sanded with surfboard shaping tools, sex wax melted on, squirted, dripped, splashed, sprayed and rubbed with donuts, zinc oxide, cuervo, sunscreen, hydrogen peroxide, tecate, sand, tar, scraped with a shark's tooth, edits made by the surf and a seal while film floated in waves- surfing performed by Andy Perry, Makela Moore, Alanna Moore, Zach Moore, Johnny McCann – shot by Peter West – film negative sanded by Mariah Csepanyi, Andy Perry and Jwest)
16mm film negative transferred to high-definition, 8 minutes 15 seconds
2011
Image courtesy of the artist.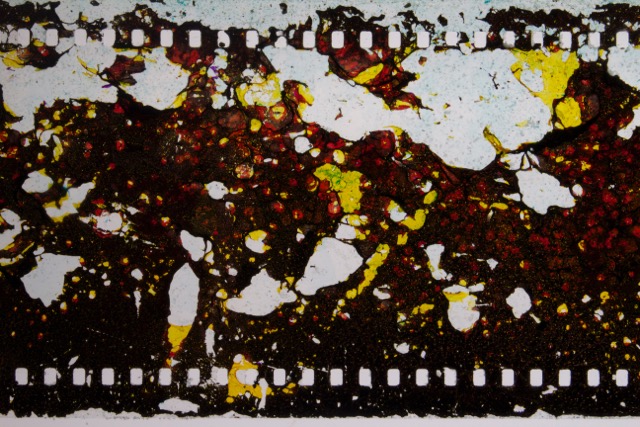 Salt Crystals Spiral Jetty Dead Sea Five Year Film (70mm film negative floated in the Dead Sea and given a healing clay bath in extreme heat in 2008 – stuffed in a suitcase, placed in studio buckets, covered in clay and salt for five years – dragged along the salt encrusted rocks of the Spiral Jetty and thrown in the pink waters in 2013 in below 10 degree weather – Dead Sea floating and mud baths by Mark Titchner, Karen Russo and Jwest – Spiral Jetty dragging and rolling by Aaron Moulton, Ignacio Uriarte and Jwest – DIY telecine frame by frame of salt covered film by Chris Hanke)
70mm film negative transferred to high-definition, 54 seconds
2013
Image courtesy of the artist.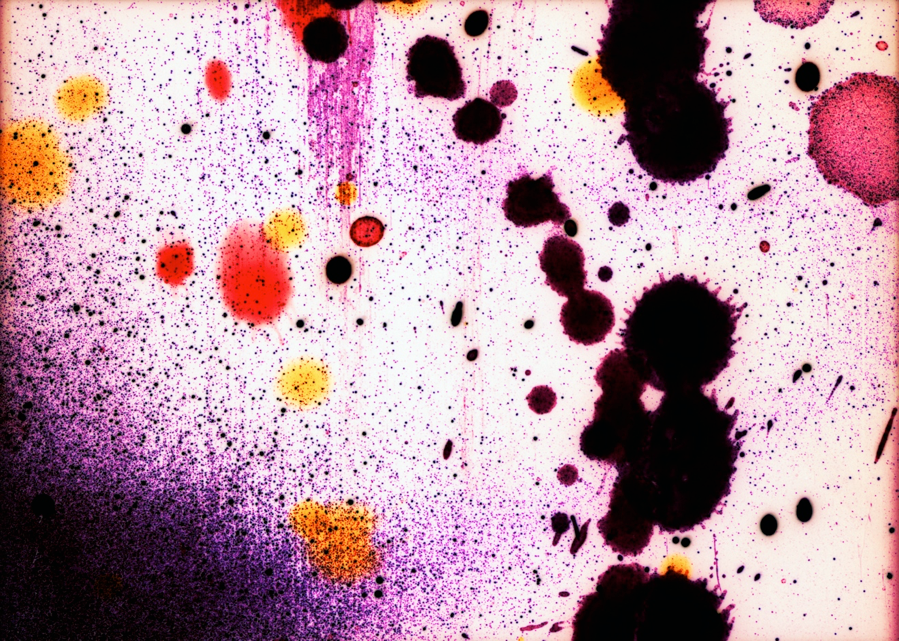 Lavender Mist Film/Pollock Film 1 (70mm film leader rubbed with Jimson Weed Trumpet flowers, spraypainted, dripped and splattered with nail polish, sprayed with lavender mist air freshener)
70mm film transferred to digital video,46 seconds
2009
Image courtesy of the artist.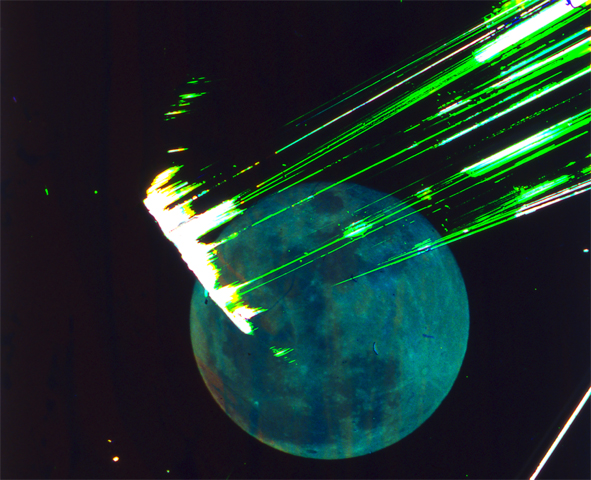 Shred the Gnar Full Moon Film Noir (35mm film print and negative shredded and stomped on by a bunch of Snowboarders and a few Skiers getting ginormous catching air during Aspen Big Air Competition and Fallen Friends Event– marked up with blue course dye – sprayed with Diet Coke, Bud Lite & Whiskey – taken hot tubbing with Epsom salts, rubbed with Arnica, K-Y Jelly, butter and Advil – full moon shot by Peter West)
35mm film transferred to high definition video,5 minutes 9 seconds
2010
Image courtesy of the artist.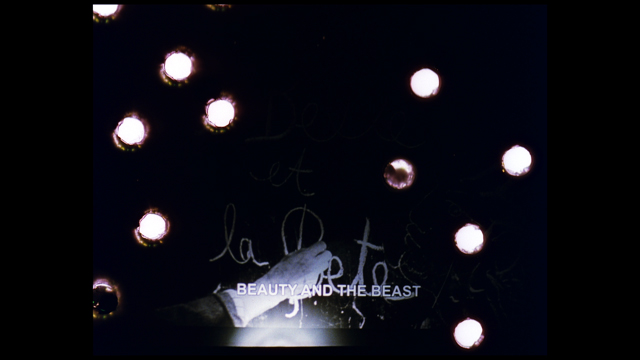 Film Title Poem
35mm optical print hand-etch and painted, transferred to high-definition, sound, 67 minutes 40 seconds
2016
Image courtesy of the artist.