A Journey

Yuz Museum, Panlong, Shanghai

May 18th- August 13th, 2023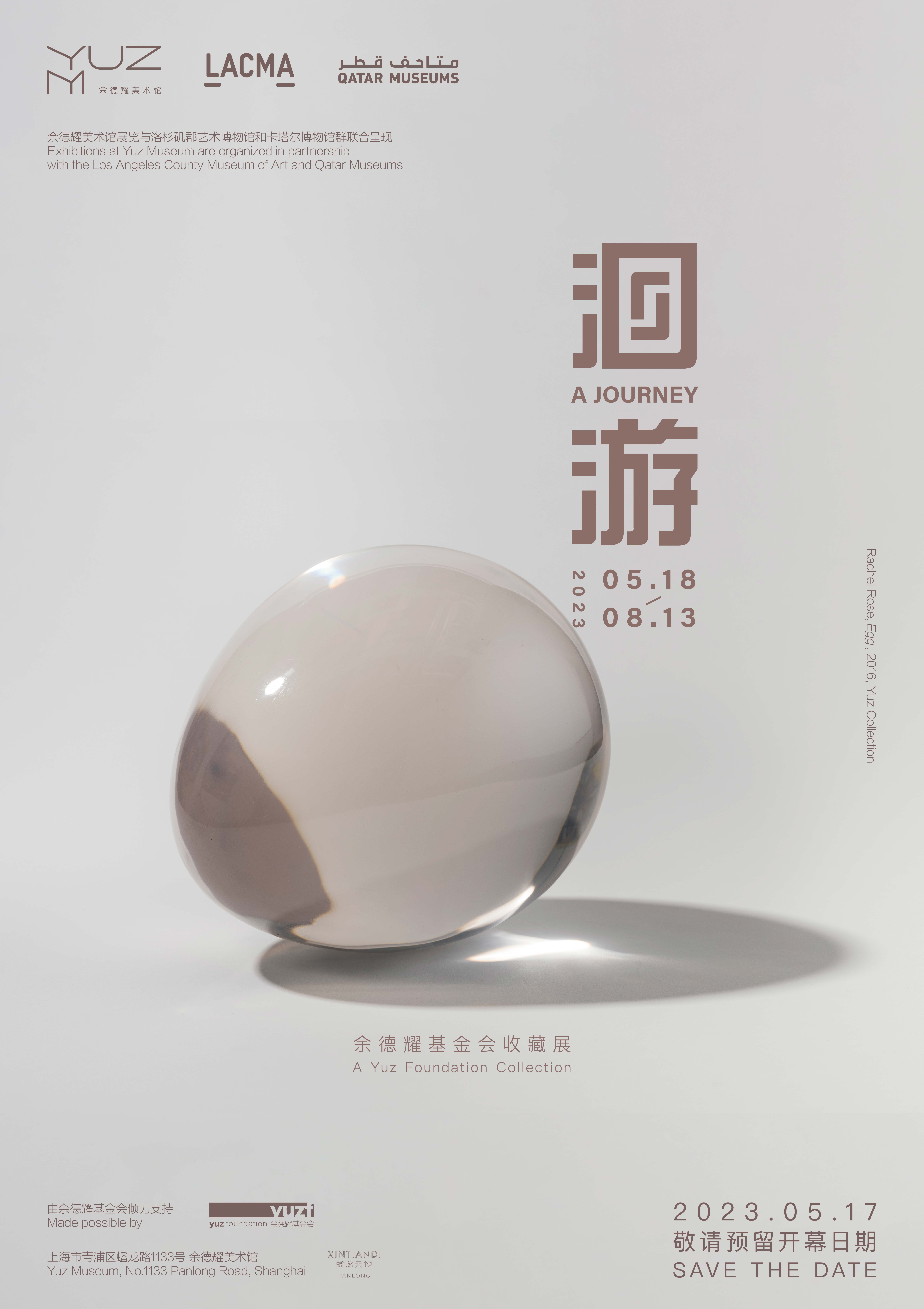 For the coming 10th anniversary of Yuz Museum Shanghai, the new venue located in Shanghai Panlong Tiandi will be completed and has its grand opening on May 17, 2023. The inaugural exhibition, A Journey, will present more than 40 representative artworks selected from the collection of Yuz Foundation, embarking on a new journey for the museum with this journey through time and space.
Leaving the industrial site on the banks of the Huangpu River and tracing the meandering waterways of Shanghai, Yuz Museum has made its home in the winding waterfront of the ancient town of Panlong. The museum is built on a quadrangle of rivers, paddies, ponds and bamboo forests, with deconstructed and reorganized gable walls and double-slope roof in traditional Jiangnan dwellings. Two sets of intertwining inter-bearing steel trusses support the interior and exterior of the museum, blending nature and man-made landscape, tradition and modernity.
With the change of geography and the physical space, "home" becomes the initial concept for the exhibition, drawing up a new blueprint for the museum's new space in Panlong. The concept "home" was not only prompted by the museum's relocation, but also by the fact that greater attachment to and reflection on home had ensued from the limitation on spatial mobility during the past three years in pandemic. More importantly, in the cultural tradition of China, home is the basis of the survival structure, "generation after generation," and one of the first ways for people to understand the world. Therefore, "home" is closely related to each individual and constitutes a holistic concept in different dimensions and perspectives.
With different forms of human migration in the process of society's advancement and globalization, as well as new perceptions and concepts brought by technological innovations in the digital age, individuals and communities of "diaspora" diversify their choices or even blur the transformation in their self-identity construction and identification. "Home" is no longer confined to traditional family structures, and people are no longer confined to geographical, historical, political and cultural factors to connect with it. Against this backdrop, it has become even more important to explore "home" in the sense of ontological significance, especially at a time when contemporary society is facing various unknowns and crises, and the discussion about "home" has become even more relevant and enlightening.
Selecting from nearly 1,500 pieces of contemporary art collected by Yuz Foundation, this exhibition will feature over 40 major works by Chinese and international artists, including paintings, sculptures, installations, photographs and videos, to embark on a journey through time and space. The artists present works related to the imagery of "home" through mundane objects, everyday experiences, individual memories or dreams, ongoing or repetitive personal practices, and reflections on historical and social issues. Meeting the artists at different stages of their lives, the exhibition invites the audience to think about "home" and "roots" subjectively, exploring the eternal propositions of individual existence, the relationship between the object and the self, and the flow of time and space.
The exhibition is not only a journey back in time to the artists' creations, but also a look back at the collection-based history of Yuz Museum since its beginning. The founder, Mr. Budi Tek, first got involved with contemporary art as an art collector and, after years of collection, built the museum to create a "home" for his collection. The collection has become the source, the foundation and nourishment of Yuz Museum. From this perspective, we hope that through this exhibition and the opening of the second chapter of the museum, we will continue its mission as a permanent "home" for the collection, to perform its function in people's daily lifes as well as to fulfill its duties of improving the ecology of the industry and promoting the development of society. The museum is not only a guardian of the physical form of artworks, but also of the ideas, spirit and culture of the human journey. By inspiring contemporary social contexts, it provides diverse and open narrative possibilities, allowing art to trigger enlightment during encounters with audience. It is a "home" where ideas flow and minds collide, a link that culture is inherited generation by generation, and the origin where we could always trace back for innovation to tackle the present moment full of challenges and uncertainties.
Yuz Flow is the second phase of Yuz Museum's strategic plan. As the first key project, the new venue will be the main exhibition area of the museum to continue the efforts in academic research, exhibition planning, public education and derivative activities, by balancing the bi-directional parallel between "history" and "future," with Yuz Foundation's collection at the core. Yuz Museum will also organize a number of satellite projects in partnership with Panlong Tiandi, including "Yuz Project Space of Art × Xuezhu Bower", "Wander" Public Art Project, and art derivative shop yuz 71㎡, which will be established to echo the main exhibition area.
Artists

Massimo BARTOLINI, CHEN Yujun, CHEN Zhen, GAO Lei, Subodh GUPTA, Rachel ROSE, SHEN Yuan, WU Yiming, YIN Xiuzhen, ZHANG Jianjun and many more.
Exhibitions at Yuz Museum are organized in partnership with the Los Angeles County Museum of Art and Qatar Museums


About Yuz Museum

Yuz Museum Shanghai, officially opened in May of 2014, is a contemporary art museum founded by Mr. Budi Tek, a Chinese-Indonesian entrepreneur, philanthropist and collector. Yuz Museum is committed to drawing the world's attention to Shanghai, advancing the development of contemporary Chinese art, actively engaging in the field of art education, and promoting cultural dialogues between East and West. As a non-profit institution, the museum aims to serve as a leader in exhibiting contemporary Chinese art and to build a preeminent reputation for contemporary art in China.
Since its opening in 2014, Yuz Museum has been the home of many internationally acclaimed exhibitions such as the world's largest Giacometti Retrospective, the "Rain Room", the Asia premieres of Andy Warhol's "Shadow", KAWS's first institutional exhibition in mainland China "Where the End Starts", "Charlie Chaplin: A Vision", "Yoshitomo Nara", etc. A significant part of the museum's focus is contemporary Chinese art, and it has provided unremitting support to a number of local artists by holding their own solo exhibitions, including "Myth / History:", "Myth / History II: Shanghai Galaxy", "Shanghai Galaxy II", "Twin Tracks: Yang Fudong Solo Exhibition", "Zhou Li: Shadow of the Wind", "Zhou Tiehai: Will / We Must", "Qin Yifeng's Works", etc.
Press Contact: For additional information, contact YUZ Communications at press@yuzmshanghai.org
About LACMA

Located on the Pacific Rim, LACMA is the largest art museum in the western United States, with a collection of more than 149,000 objects that illuminate 6,000 years of artistic expression across the globe. Committed to showcasing a multitude of art histories, LACMA exhibits and interprets works of art from new and unexpected points of view that are informed by the region's rich cultural heritage and diverse population. LACMA's spirit of experimentation is reflected in its work with artists, technologists, and thought leaders as well as in its regional, national, and global partnerships to share collections and programs, create pioneering initiatives, and engage new audiences.
Location: 5905 Wilshire Boulevard, Los Angeles, CA, 90036. lacma.org
Press Contact: For additional information, contact LACMA Communications at press@lacma.org or 323 857-6522
About Qatar Museums

Qatar Museums (QM), the nation's preeminent institution for art and culture, provides authentic and inspiring cultural experiences through a growing network of museums, heritage sites, festivals, public art installations, and programmes. QM preserves, restores, and expands the nation's cultural offerings and historical sites, sharing art and culture from Qatar, the Middle East, North Africa, and South Asia (MENASA) region with the world and enriching the lives of citizens, residents, and visitors.
Under the patronage of His Highness the Amir, Sheikh Tamim bin Hamad Al Thani, and led by its Chairperson, Her Excellency Sheikha Al Mayassa bint Hamad bin Khalifa Al Thani, QM has made Qatar a vibrant centre for the arts, culture, and education in the Middle East and beyond. QM is integral to the goal of developing an innovative, diverse, and progressive nation, bringing people together to ignite new thinking, spark critical cultural conversations, educate and encourage environmental stewardship and sustainable practices, and amplify the voices of Qatar's people. Since its founding in 2005, QM has overseen the Museum of Islamic Art and MIA Park, Mathaf: Arab Museum of Modern Art, the National Museum of Qatar, QM Gallery Al Riwaq, QM Gallery Katara, and the Tasweer Qatar Photo Festival. Future projects include the soon to open 3-2-1 Qatar Olympic and Sports Museum, and Dadu, Children's Museum of Qatar.
Through its newly created Creative Hub, QM also initiates and supports projects—such as the Fire Station Artist in Residence, the Tasweer Qatar Photo Festival and the creative hub for innovation, fashion and design M7—that nurture artistic talent and create opportunities to build a strong and sustainable cultural infrastructure.
Animating everything that Qatar Museums does is an authentic connection to Qatar and its heritage, a steadfast commitment to inclusivity and accessibility, and a belief in creating value through invention.