Lying Sophia and Mocking Alexa

A Collaboration with Hyundai Blue Prize

Yuz Museum Shanghai
November 14, 2020 – January 31, 2021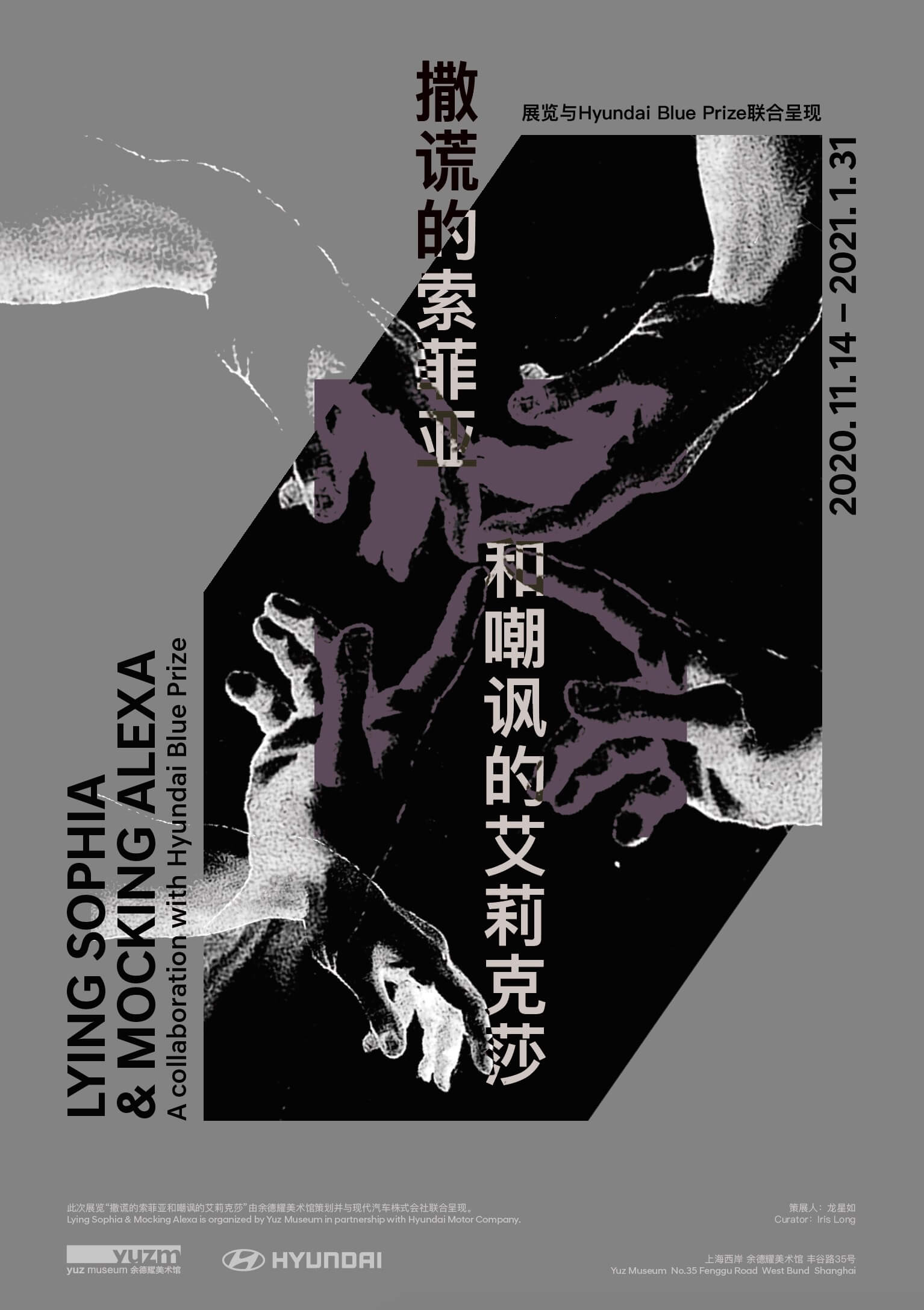 (Shanghai—November 13, 2020) Yuz Museum Shanghai is pleased to present Lying Sophia and Mocking Alexa, an exhibition exploring the relationship between humans and machines within the framework of Artificial Intelligence (AI). Opening to the public on November 14, 2020, the exhibition brings together artists and researchers examining the topic from a variety of perspectives including the impact of AI on global technopolitics and on geologies, the absurdity of quantifying human emotion, the dark labor involved in training "human-like" algorithms and the myth-like narratives about AI propagated by the media. The exhibition is curated by Iris Long, the 2018 winner in "Sustainability" of the Hyundai Blue Prize which aims to explain the profound impact of technological change on human consciousness and society.
Lying Sophia and Mocking Alexa
"Sophia" and "Alexa", transformed into text and audio by the GPT-2 model AI software, are the two central characters in Lying Sophia and Mocking Alexa. With three dimensional dialogues taking place throughout the exhibition, they serve to interpret the subject of AI, which is paradoxical and implies manifold future potentials. Sophia, a robot that has been granted Saudi citizenship, is highly responsive and has a realistic human look. A life-like robot living among us, she can even conduct diplomacy and is seen as an "ambiguous scam" co-authored by media and technology companies. Alexa is a "servant" who takes the shape of a machine and resides in domestic corners. She has been reported to have "horrible laughter," symbolizing the opacity, uncontrollability and dangerous potential of the AI "black-box" to slide into voyeurism and subversion. The existence of Sophia and Alexa and the dialogue between them allow the audience to experience the exhibition as a voyeur, witnessing the fullness, imponderability and last hope of the psychological world.
As a bystander, the exhibition leads us to question: if artificial intelligence is no longer purely a concept of science fiction and if the development of basic science continues to expand the boundaries of our cognition, will what we are experiencing be the black hole event horizon that, as Vernor Vinge foresees, "breaks all prophecies" or serves as "the biggest mistake we have ever made" as indicated by Stephen Hawking? Looking back at the history of human development, we have rarely encountered something that contains the various paradoxes of AI, or a topic that similarly points to infinite possible futures in the changing world of science and technology. Today, AI is widely used in chips, processors, data collection and analysis, forming a new frontier in global technological competition. However, outside of technology industries, it is still not easy to know directly what products and programs utilize AI as it becomes the easiest, but also the hardest story to tell in mass media.
In the exhibition, Sophia and Alexa are contemporary metaphors for our evolving relationship to these new technologies. The former's lies are the projection of poetic imagination –a bright, lyrical imagination. While the latter's ridicule demonstrates cracks in the black-box algorithm, representing a murky existence fraught with technical criticism. They are both in a hazy, complicated situation, similar to the concept of "La Zona" in Andrei Tarkovsky's 1979 Stalker. In this film, the stalker leads a writer and a scientist to journey by cable car, through a chase with the police to traverse tunnels dripping with water, to detour rooms filled with sand dunes, and finally to approach the core of "La Zona": a "Room" that makes beliefs reality. The writer is concerned about the dark side of human nature that the Room suggests, while the scientist wishes to destroy the Room to protect it from allowing those with bad intentions to take advantage. Lying Sophia and Mocking Alexa sets up a metaphorical "La Zona" which embodies our contemporary situation: a time-space where both science and art are simultaneously deprived of the power of autocracy and narrative-building, constantly filled with the deliberation of the writer and the scientist.
Lying Sophia and Mocking Alexa Artists

Kate Crawford & Vladan Joler
Jake Elwes
He Zike
Liu Xin
Anna Ridler & Daria Jelonek
Evan Roth
Philipp Schmitt & Anina Rubin, in collaboration with Dr. Felipe Orduña Bustamante
Sun Xiaoxing & Hu Yanjun
Zhang Wenxin
Payne Zhu
Lying Sophia & Mocking Alexa is organized by Yuz Museum in partnership with Hyundai Motor Company

About Yuz Museum
Yuz Museum Shanghai, officially opened in May of 2014, is a contemporary art museum founded by Mr. Budi Tek, a Chinese-Indonesian entrepreneur, philanthropist and collector. The museum is located on Shanghai's West Bund and plays an important role in the West Bund Cultural Corridor. Yuz Museum is committed to drawing the world's attention to Shanghai, advancing the development of contemporary Chinese art, actively engaging in the field of art education, and promoting cultural dialogues between East and West. As a non-profit institution, the museum aims to serve as a leader in exhibiting contemporary Chinese art and to build a preeminent reputation for contemporary art in China. Designed by acclaimed Japanese architect, Sou Fujimoto, the museum was renovated from an old hangar of the former Shanghai Aircraft Manufacturing Factory.
Location: 35 Fenggu Rd, Xuhui District, Shanghai, China 200232. yuzmshanghai.org
Press Contact: For additional information, contact YUZ Communications at press@yuzmshanghai.org or +86 021-64261901
About Hyundai Motor's Art Project
Hyundai Motor has been supporting art initiatives driven by long-term partnerships with global museums―the National Museum of Modern and Contemporary Art, Korea (MMCA), Tate and the Los Angeles County Museum of Art (LACMA) since 2013. The aim is to support the development of the global art scene and contribute to the establishment of a sustainable art environment, delivering inspiration and unique experiences to the world. The newly established Hyundai Tate Research Centre: Transnational will aim to encourage innovative ways of thinking about art and global art histories. With global media group Bloomberg, Hyundai connects international audiences with artists exploring the convergence of art and technology. Also, Hyundai has been a major sponsor for the Korean Pavilion at the Venice Biennale 2015, 2017, 2019 and the 20th and 21st Biennale of Sydney.
About Hyundai Motor Company

Established in 1967, Hyundai Motor Company is committed to becoming a lifetime partner in automobiles and beyond with its range of world-class vehicles and mobility services available in more than 200 countries. Hyundai sold more than 4.5 million vehicles globally in 2018 and is currently employing more than 110,000 employees worldwide. Hyundai Motor continues to enhance its product line-up with vehicles that are helping to build solutions for a more sustainable future, such as NEXO, the world's first dedicated hydrogen-powered SUV.
More information about Hyundai Motor and its products can be found at: http://worldwide.hyundai.com or http://globalpr.hyundai.com