THE ARTIST IS PRESENT

Yuz Museum, West Bund Shanghai
October 11, 2018 – December 16, 2018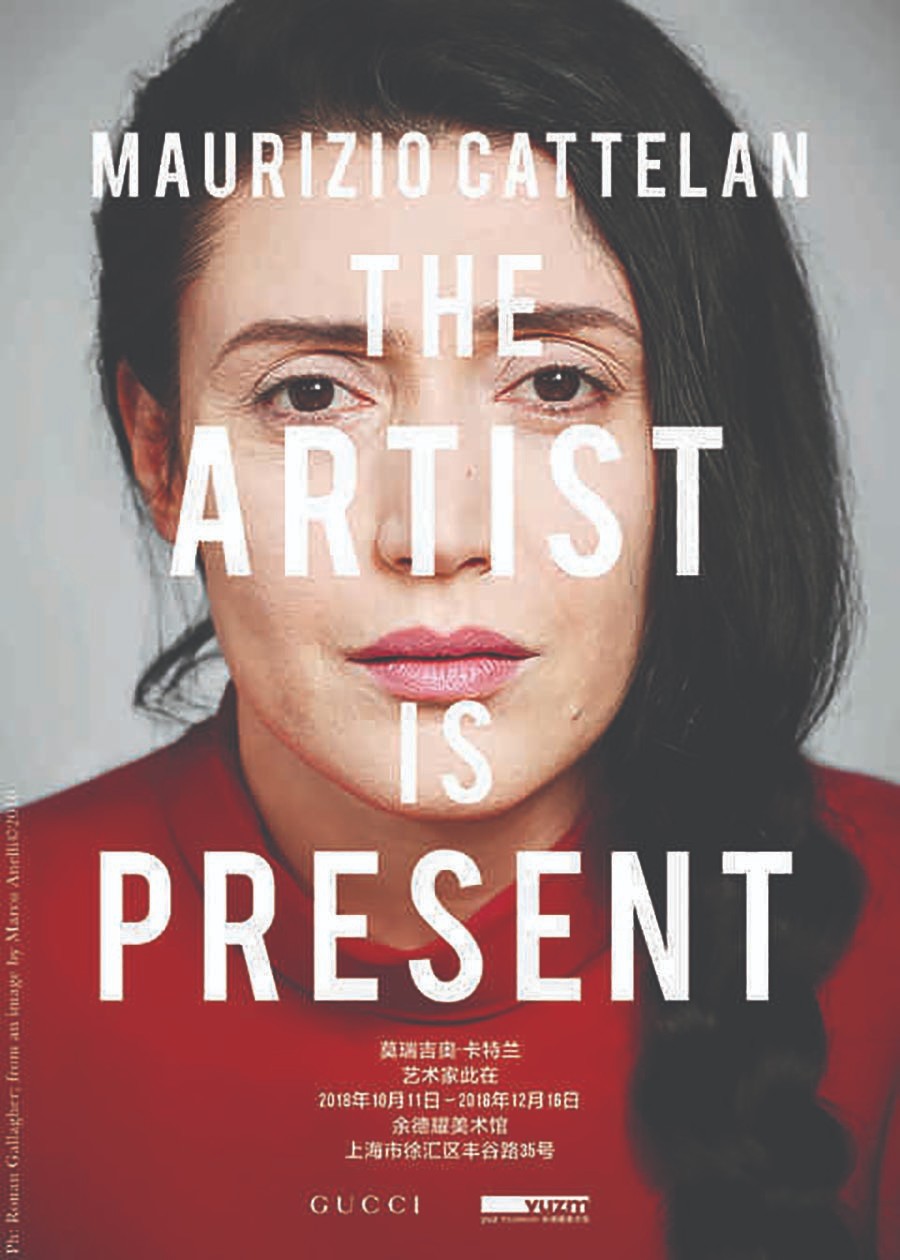 This is the story of a dream.
Imagine a world crowded with old master portraits, ancient Roman marble heads, gold reliquaries filled with zombies' hands and hearts, blooming carpets and colorful tapestry, baby dragons, and unknown creatures' skulls.
This dream belongs to Gucci's visionary creative director, Alessandro Michele. As the poet did, midway upon the journey of our life, he found himself within a forest dark. But he hasn't lost the straightforward pathway: he simply never followed it, deliberately choosing the road less traveled.
On this path, there is a man, tall and lean in his jeans and a tight T-shirt, salt-and-pepper gray hair, and a long, puzzled face anchored by a propitious Roman nose: Maurizio Cattelan, tireless artist, affected by a serious image hoarding disorder. The perfect partner in crime.
Maurizio Cattelan is dreaming of hanging around Shanghai for inspiration. Their shared dream world is staged in the Chinese metropolis, homeland to "the copy is the original" thought.
On 10th October at the Yuz Museum in Shanghai the dream is becoming true: an exhibition project curated by Maurizio Cattelan, titled The Artist is Present, after Marina Abramovic's celebrated solo show at MoMA. From its very first line, The Artist is Present is an act of appropriation. The least you can expect for an exhibition project curated by Maurizio Cattelan and powered by Alessandro Michele's Gucci.
Both are very well aware that complex relationship between image and reality, representation and presentation have been one of the most important topics in art. And they both well know that it is truer today, as we all are at the same time the generous feeder and the avid consumer of a world of simulacra, in between illusion and reality. Rooted in this permanent visual deluge, The Artist is Present focuses on artists projects that propose simulation and copy as a paradigm of global culture. The title itself aims at demonstrating how the act of copying can be considered a noble act of creation, featuring the same artistic value as the original.
The Artist is Present features a selection of more than thirty artists, foreign and Chinese, that will show both site-specific and existing works that question the most hallowed principles of art in the modern era: originality, intention, expression. In an era where everything is reproduced, nothing really keeps the aura of originality, suggesting the urgency to overcome an old concept of counterfeit in favor of a new way to conceive copy as an indispensable tool for facing our contemporary society.
If it's a fact that a life-size replica of the Sistine Chapel is travelling around Mexico, and it is visited as if it was a pop singer on tour, The Artist is Present might be seen as a manifesto based the concept that appreciation of a work relies on engagement with ideas rather than on simple visual gratification of an original artwork.
The show explores how originality can be reached through the act of repetition, and how originals themselves can be preserved through copies. It consists in a physical immersion in the reign of imitation, a land where the core values that used to identify with an artwork in the Western world, such as originality, intention, expression, and authorship, are dismantled. As Maurizio Cattelan said: "Copying is like a blasphemy: it could seem not respectful towards God, but at the same time is the significative recognition of its existence".
In The Artist is Present the nature of the creative process itself results deconstructed, and with it, the idea of godlike creation: the only belief remains the conviction that originality is definitely overrated. Artists on show: John Ahearn (with Rigoberto Torres), John Armleder, Nina Beier, Brian Belott, Anne Collier, Jose Dávila, Wim Delvoye, Eric Doeringer, Sayre Gomez, Andy Hung Chi-Kin, Matt Johnson, Jamian Juliano-Villani, Kapwani Kiwanga, Ragnar Kjartansson, Josh Kline, Louise Lawler, Margaret Lee, Hannah Levy, Lu Pingyuan, Ma Jun, Nevine Mahmoud, Aleksandra Mir, Pentti Monkkonen, Philippe Parreno, Jon Rafman, Mika Rottenberg, Reena Spaulings, Sturtevant, Superflex, Oscar Tuazon, Kaari Upson, Gillian Wearing, Lawrence Weiner, Christopher Williams, XU ZHEN®, Yan Pei-Ming, Damon Zucconi.
Powered by GUCCI