André Butzer: Light, Colour and Hope

Yuz Museum, West Bund, Shanghai
September 26, 2020 – January 10, 2021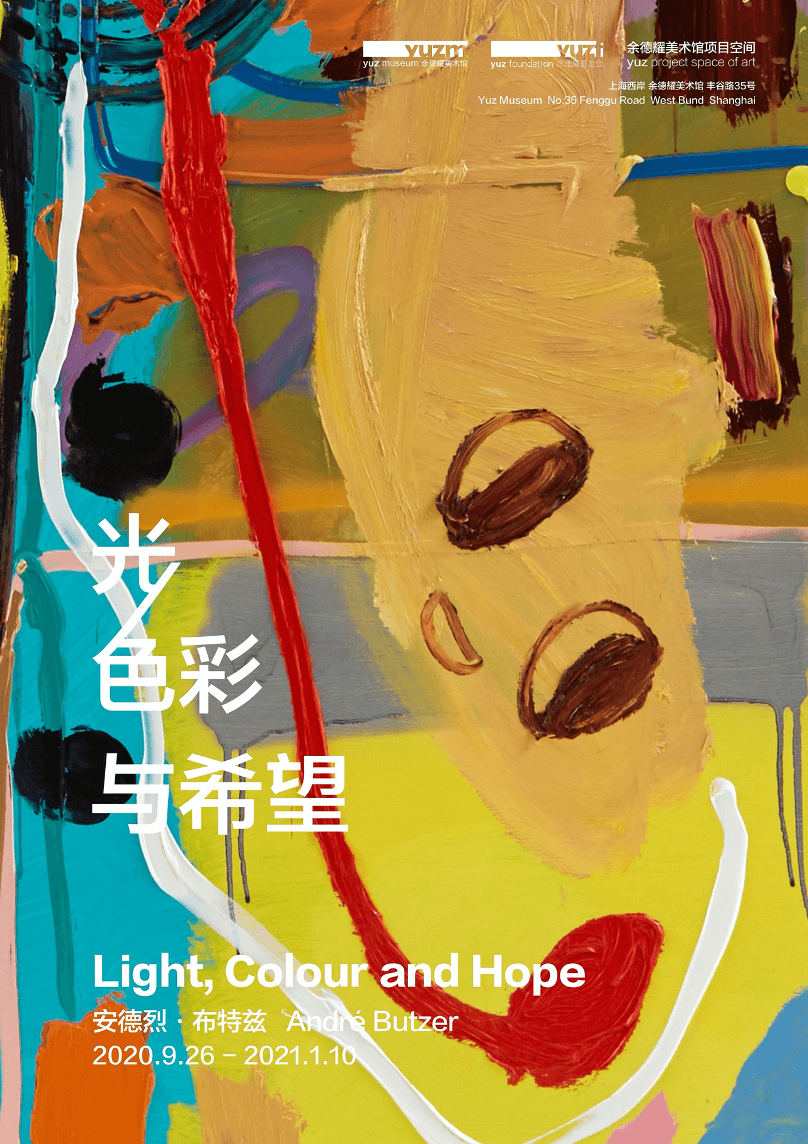 Yuz Museum Shanghai is pleased to present "Light, Colour and Hope," the first institutional solo exhibition in mainland China of German painter André Butzer, from September 26th, 2020 to January 10th, 2021 in the YUZ Project Space of Art. Comprised of new paintings with his well-known cartoon characters and a storm of color, the exhibition will introduce the artist's 25-year practice to Chinese audiences.
Born in Stuttgart in 1973, André Butzer established his own style mingling the two disparate contexts of his German heritage and the increasing presence of American culture. Conscious of the interplay between the painterly reality and the readymade, Butzer strives to revive the importance of painting and the meaning of human existence. With an emphasis on rhythm and the study of colour and light, he revisits the history of painting. Moreover, he builds a spiritual home on the canvas which lingers between dream and reality. His work's recollection of German history, resonances of Friedrich Hölderlin's poems as well as references to Walt Disney enable him to envision an enduring life under the auspices of human nature and community.
As a recurring manifestation of his practice, NASAHEIM is a utopia reincarnated in painting. "NASA" is taken from the National Aeronautics and Space Administration, referring to the unknown and untouchable cosmos, while "HEIM" in German refers to home, representing the familiarity within reach. This invented universe not only points to his protected inner world, but also suggests that painting itself inhabits a space in-between far and near. Butzer is able to break away from earthbound measurements, surpass the concept of time, wander between heaven and earth, and be free of all ties.
Even though lighthearted figures appear repeatedly throughout Butzer's œuvre, the aura of life and the crisis wrought by modernity echo in his paintings. As Butzer states: "Don't believe the hype. Find truth in presence, attendance, community. Stay uncalculable and remain a being of risk, embrace the risk. Science is not real. Rhythm will always return and annihilate what is untrue, virtual, statistic and godless."
About the artist
André Butzer , born in Stuttgart in 1973, lives in Altadena, California.
Since 1996, his paintings have been the subject of numerous group and solo exhibitions at IKOB Museum of Contemporary Art in Eupen, Belgium; Kestnergesellschaft in Hanover, Germany; Kunsthalle Nuremberg, Germany; and Växjö Konsthall in Växjö, Sweden; among others.
Works of his are part of the collections of the Art Institute of Chicago; Carré d'Art, Nîmes; Deichtorhallen Hamburg; Hall Art Foundation, Reading; Nationalgalerie – Hamburger Bahnhof Museum für Gegenwart, Berlin; LACMA, Los Angeles; MOCA, Los Angeles; Paula Modersohn-Becker Museum, Bremen; Rubell Museum, Miami; Contemporary Art Collection of the Federal Republic of Germany, Bonn; etc.
About Yuz Project Space of Art
Yuz Project Space of Art, opened to public in September 2015, is an independent program from Yuz Museum's exhibitions. Yuz Project Space of Art invites artists to create site-specific works or projects where it engages boldly with the museum, the surroundings and the audiences. Combining "a project + an exhibition," the program aims to present the interaction between the artists, time, and space.
Yuz Project Space of Art is where innovation and creation cross path. It provided an interesting platform for artists, both Chinese and international, to use this space to generate conversations toward each other with their own unique and groundbreaking artworks. Yuz Project Space of Art invites artists to breakthrough their usual practice and explore all kinds of possibilities of contemporary art.
Exhibitions at Yuz Museum are organized in partnership with LACMA and Qatar Museums