Hernan Bas: Choose Your Own Adventure

Yuz Museum, West Bund, Shanghai

October 28th, 2021 – January 9th, 2022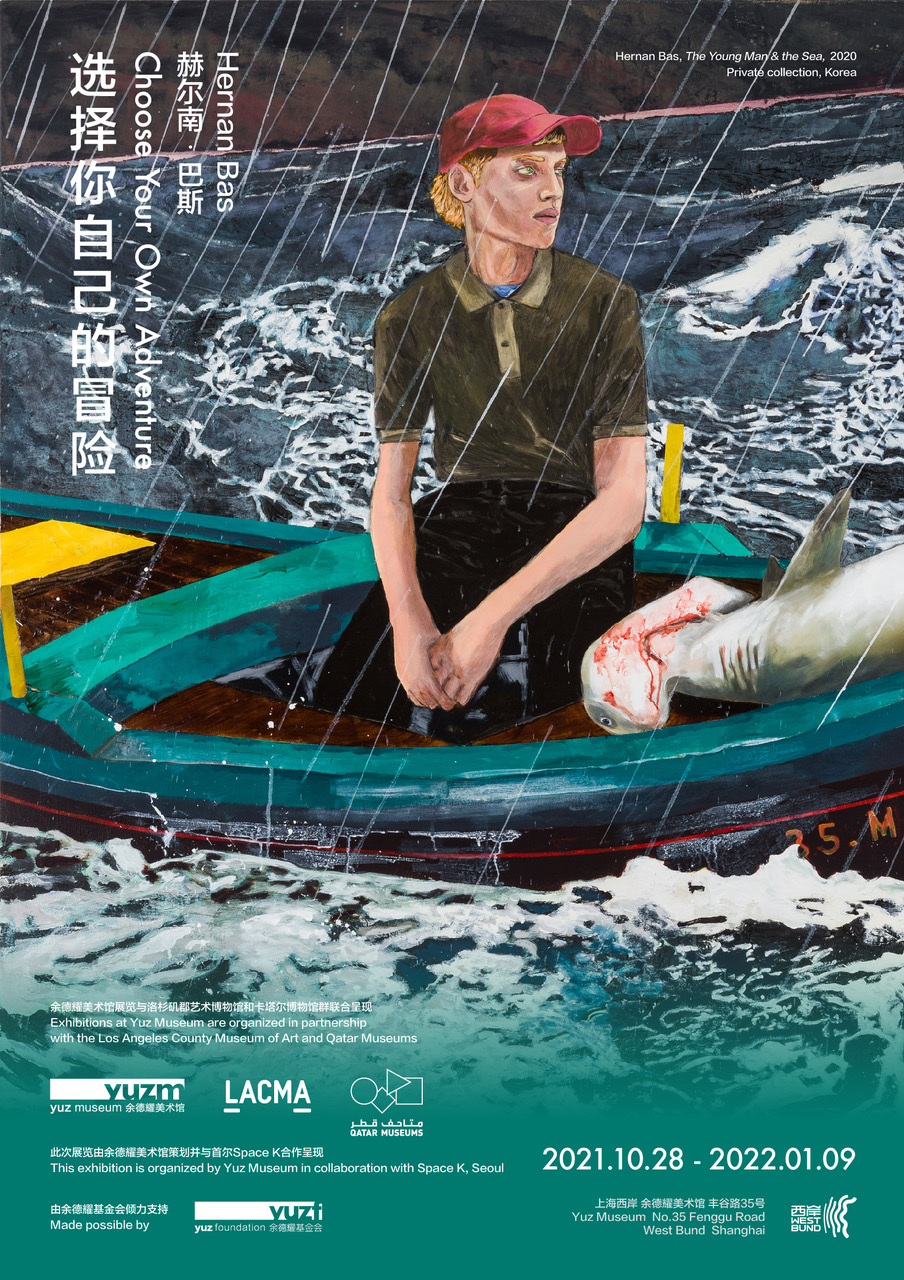 Yuz Museum Shanghai is pleased to present "Choose Your Own Adventure" by Hernan Bas, the artist's first solo exhibition in Mainland China and a highlight of Art West Bund 2021 FW, from October 28th, 2021 to January 9th, 2022. This exhibition could be seen as an epitome of Bas' artistic practice of almost twenty years and features more than twenty quintessential paintings as well as rarely-seen video installations from the early period. Presented chronologically and thematically, all artworks are coherent with the theme of "adventure," inviting visitors to roam wildly among the artist's creative chapters over different periods.
Hernan Bas is renowned for his complex and intricate narrative paintings. He frequently immerses himself in a staged process of deep and detailed research centered around a specific theme, followed by a continuous exploration of the topic in question. Based on his extensive research and observations, he remixes materials and samples that are relevant to himself and recomposes them in his inimitable personal vocabulary and aesthetics, in a way similar to a visual collage. The jungle adventures of his childhood in Miami and North Florida, being steeped in local myths and legends of mystery and the supernatural, and his diverse interpretations and wild imaginations towards fascinating stories all have a profound impact on his artworks. His deep-seated interest in horror films, television programs, the paranormal, occult, fashions, and various subcultures have empowered him with a steady stream of inspiration. Not only are the whimsical and fascinating scenes on Bas' canvas born out of his personal experiences, interests, and obsession, but they have also been informed by art history and early literature, particularly the poetry and decadence of authors such as Joris-Karl Huysmans, Oscar Wilde, and Charles Baudelaire. Through classical and romantic filters, these dandies of the 19th century, lonesome youths, and treasure explorers have been granted contemporary rebirth through Bas' visualization and imagination.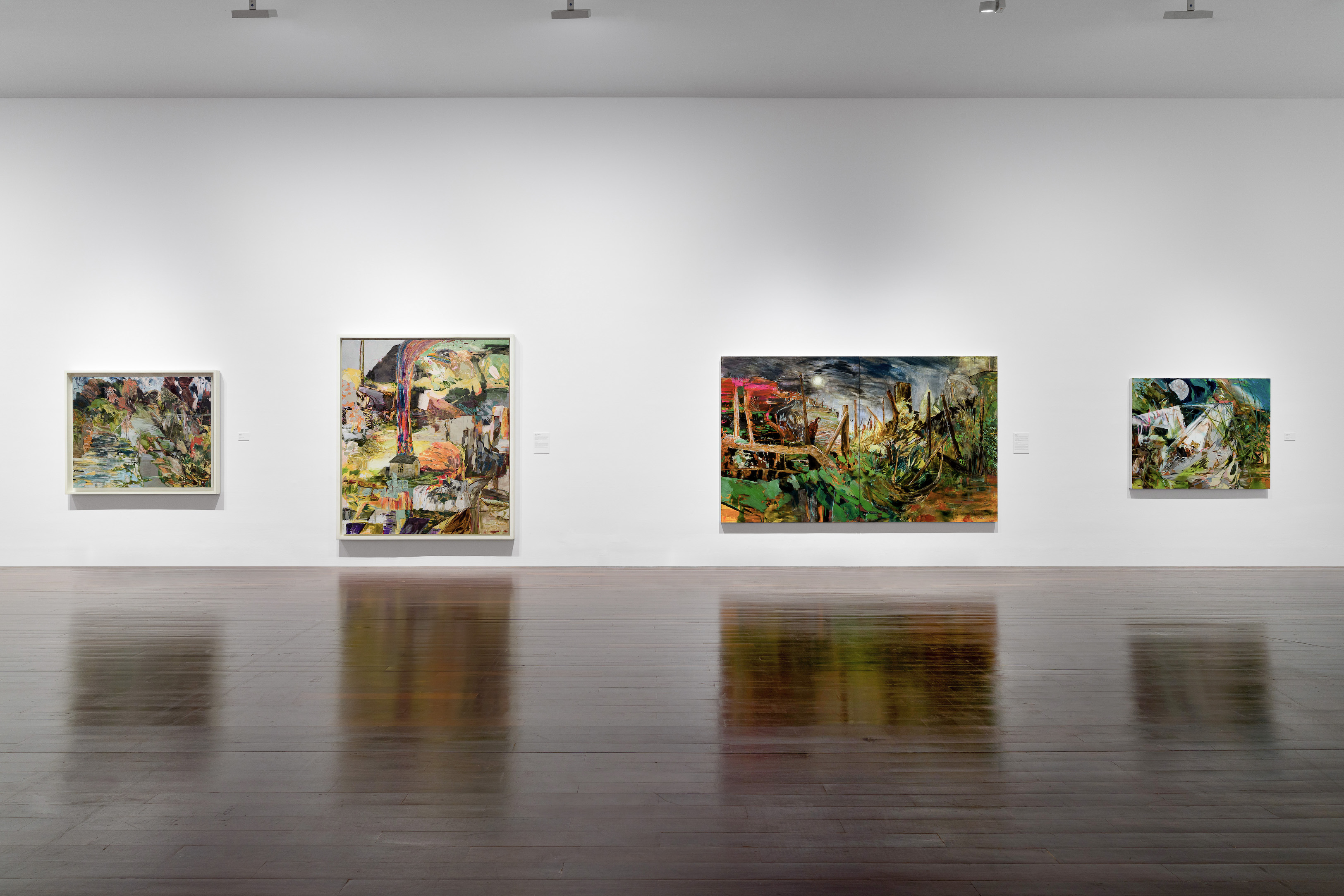 These lanky, male characters between the ages of adolescence and adulthood are recurring protagonists in Bas' paintings. They often contemplate in solitude or stare off canvas, wandering through splendid and flowery fantasies, or lost in dangerous and chaotic apocalyptic scenes. Young men with indifferent and melancholic looks depicted in eccentric postures are rooted in the artist's early works and have accompanied him throughout his artistic journey. They can be interpreted as Bas' autobiographical self- exploration, as well as his observations and portrayal of contemporaries facing the unknown world, effectively capturing the universal states and sentiments of life. In some of his works, Bas has turned towards exploring small group portraits, framing those interconnected yet distant, deceptively peaceful while simultaneously unsettling moments.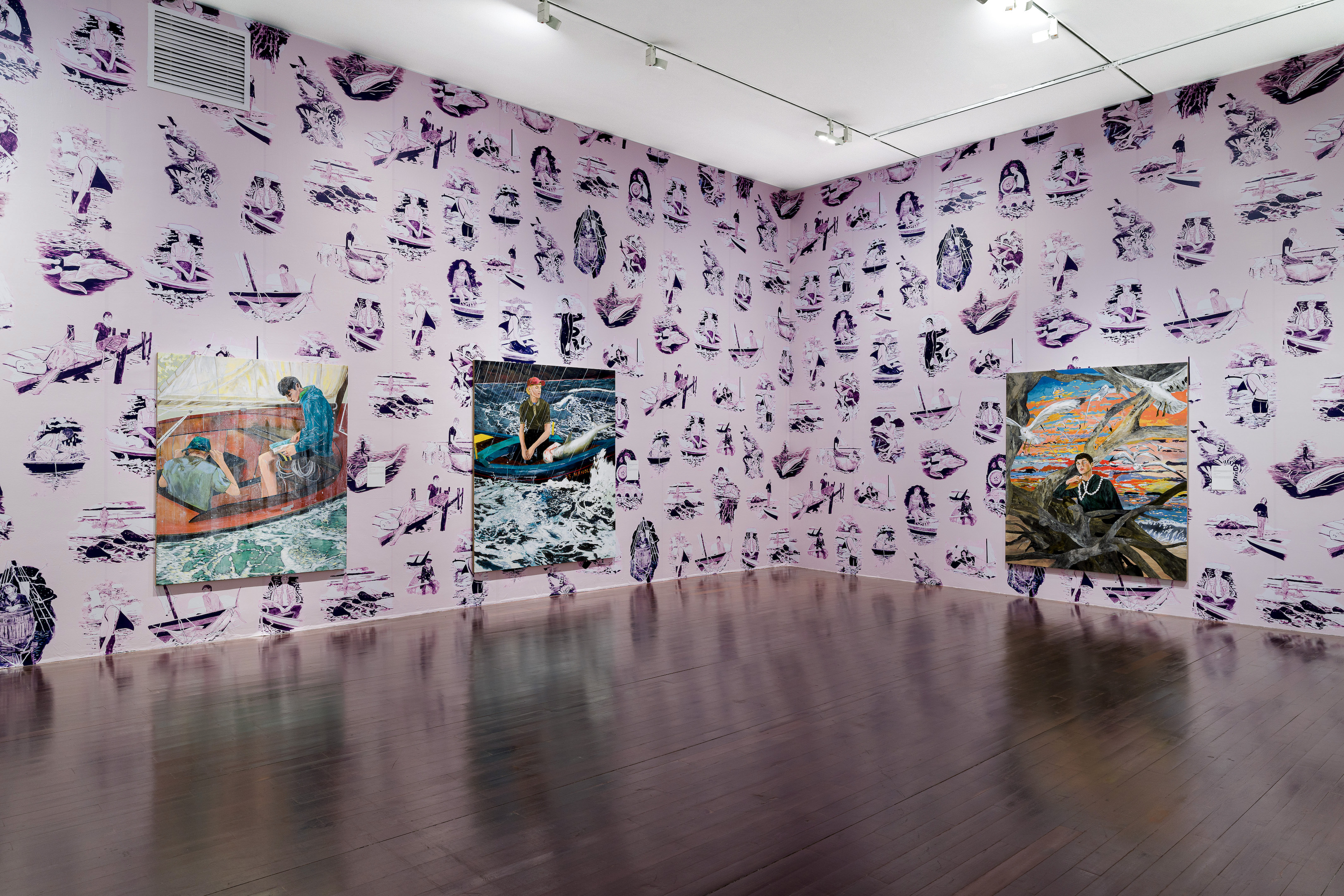 Bas tends to create tense, dangerous, mysterious, and ambiguous scenes, with specific imageries often filled with layers of references. In his early works, surreal landscapes that combine abstract expressions and decorative motifs almost overwhelmingly swallow the characters in the painting, which alternatively could be interpreted as the rendering and symbolization of the characters' emotional upheavals. In recent years, beyond Bas' rich and long-standing experience in materials, colors, and composition, his new works, especially the ones created between 2020 to 2021 reveal a shift in his mode of narration: Using extremely delicate strokes to depict realistic scenes, he creates dramatic tension in straightforward and unembellished portraits by highlighting the characters' countenances and postures in the middle ground. Perilous nautical adventures, wild birds' ambushes, and the gloom of climate changes are obvious tributes to great masters of literature and films. They are also, more or less, a projection of the angst and anxiety people feel towards disaster and apocalypse in the real world in light of the pandemic sweeping across the globe today. Through ambiguous narratives, Bas successfully introduces multidimensional perspectives and space for imagination in his artworks. As the exhibition title "Choose Your Own Adventure" implies, the artist pays homage to the homonymous children's book series that were widely popular in America during the 1980s and 1990s, with the aim of giving each visitor the freedom to choose their own characters and story development, experience unique fantastical adventures and arrive at different endings.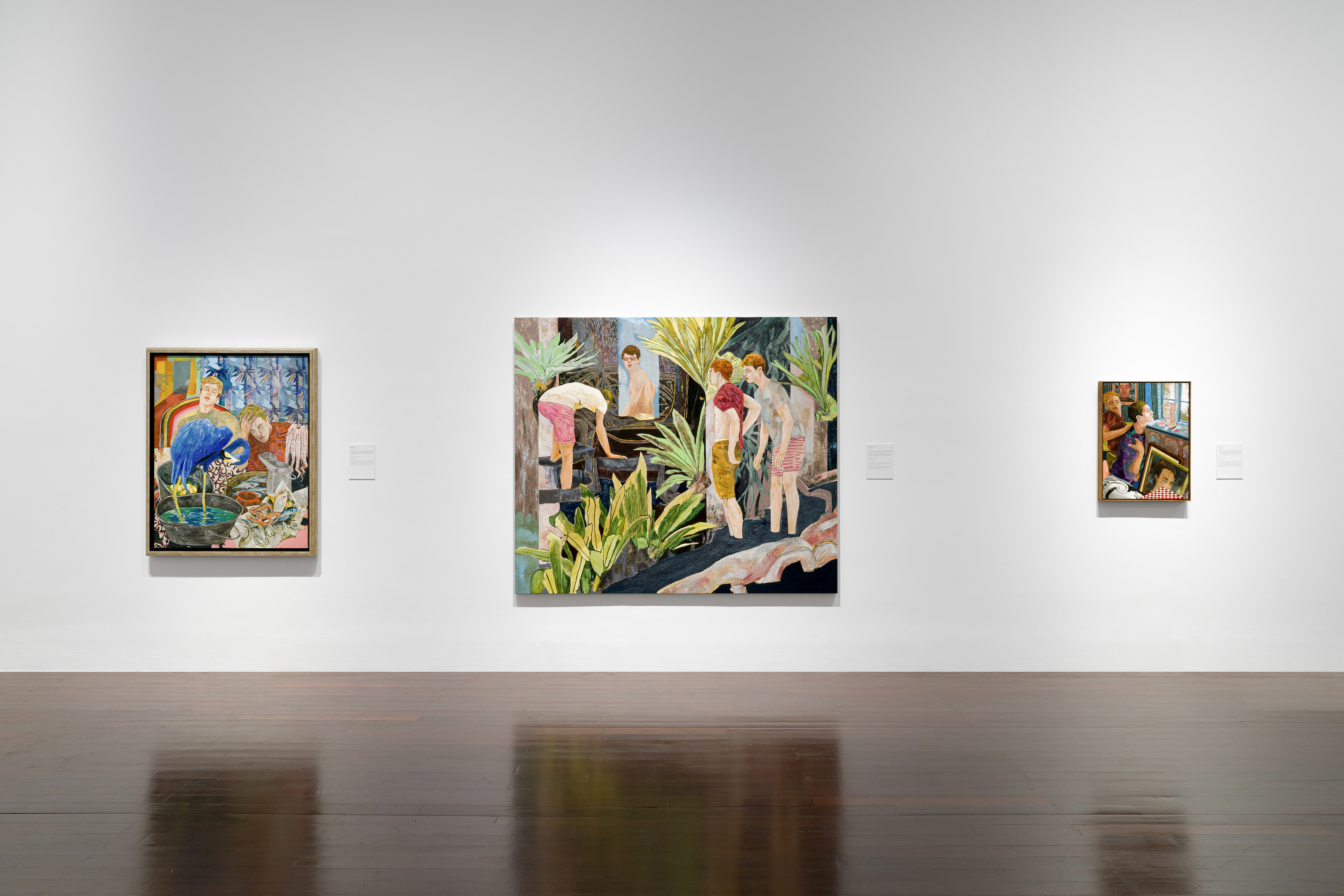 Worthy of a special mention are the youths proceeding from Bas' brush, who seem to grow mature amidst the risks lurking in the world. The determined and unyielding spirit in their eyes that strikingly captures their confidence in face of adversities and fearless courage towards uncertain future also indicates the artist's untiring endeavors in conquering brand-new frontiers.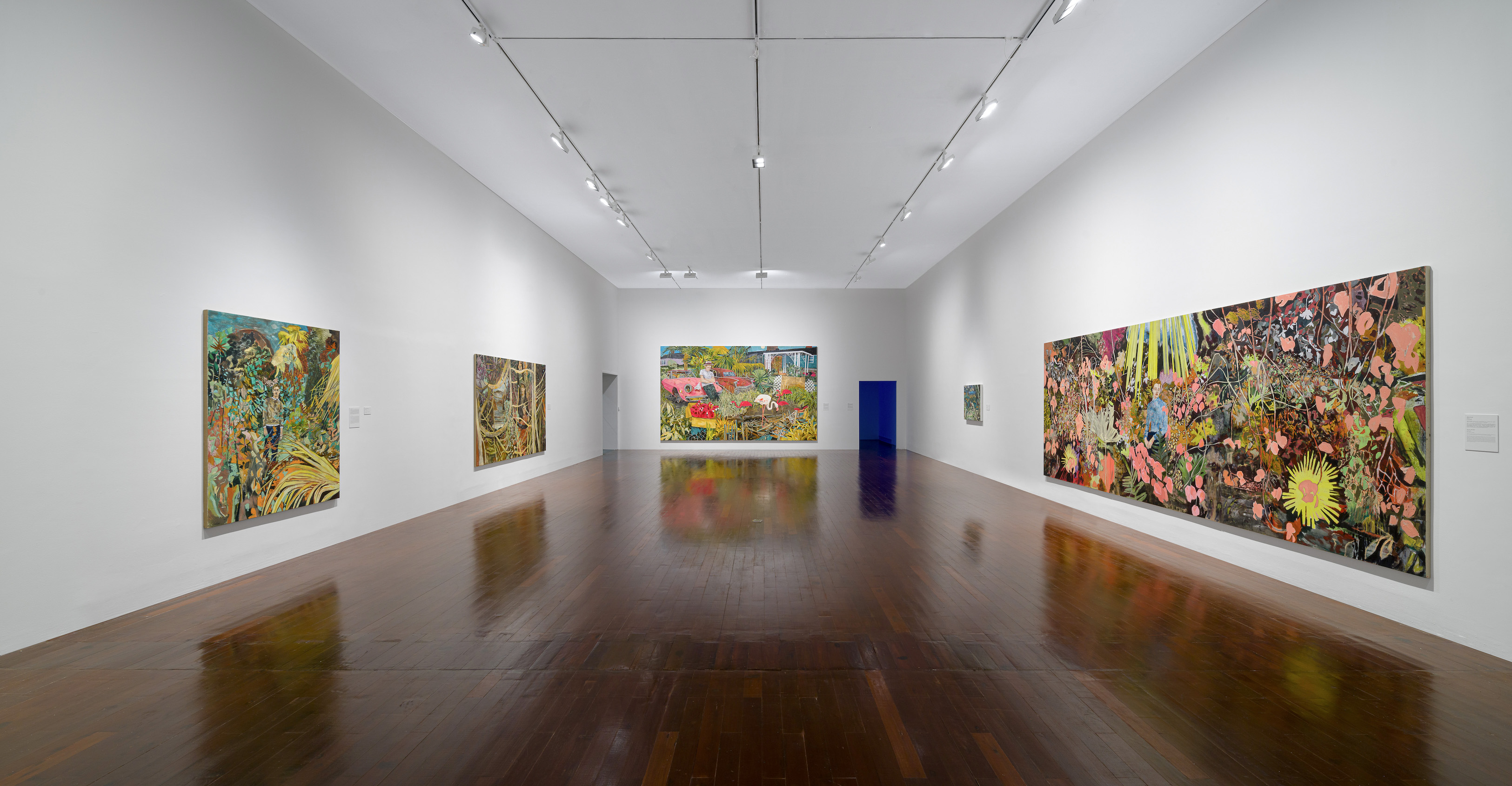 About the artist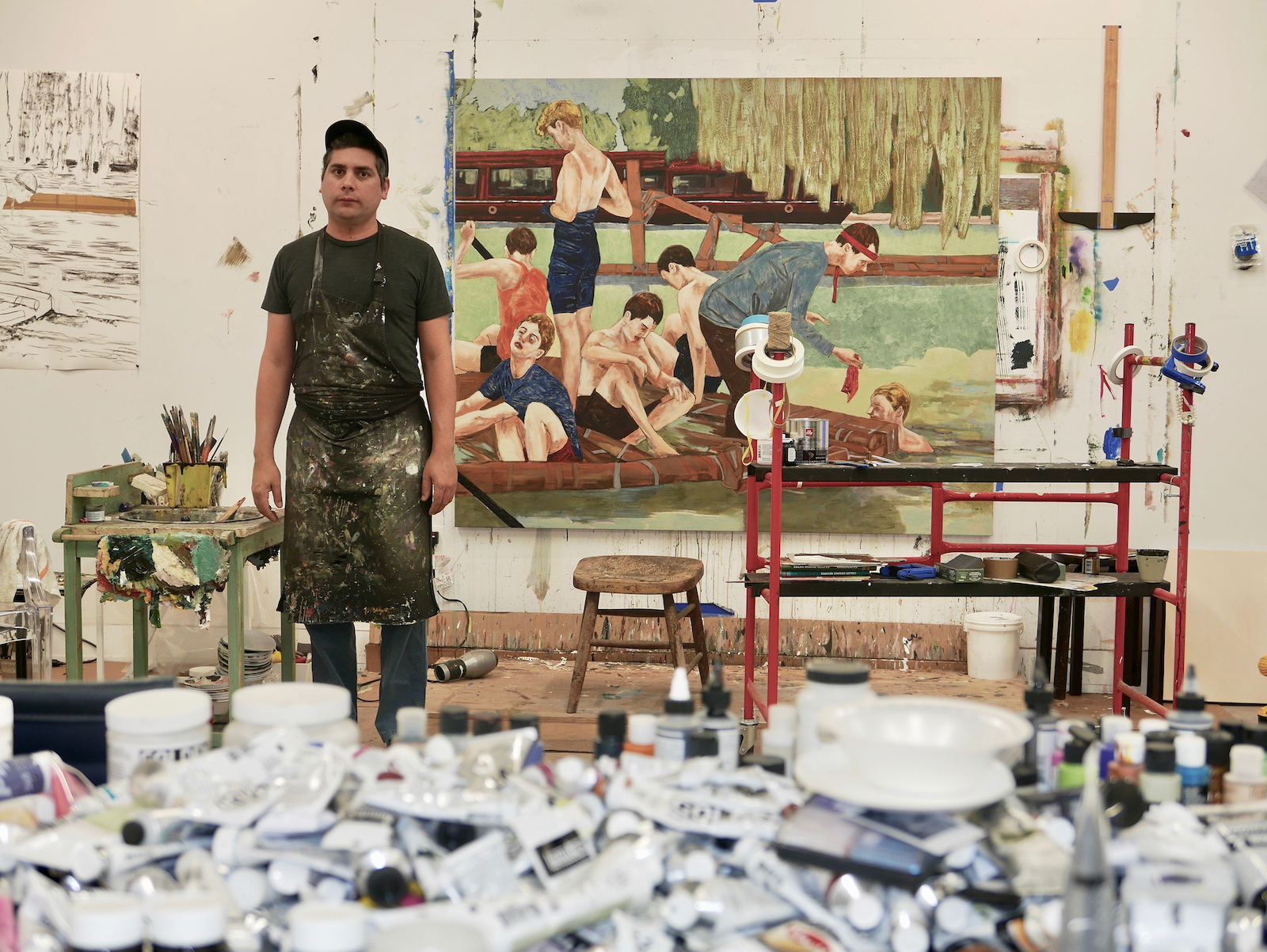 Hernan Bas was born in Miami in 1978. He currently lives and works in Detroit and Miami. He received a degree from the New World School of the Arts, Miami, in 1996. Bas has participated in a number of important exhibitions. Solo exhibitions of his work have been organized by Yuz Museum, Shanghai (2021); Space K, Seoul (2021); Centro De Arte Contemporáneo Málaga, Málaga (2018); Colby College Museum of Art, Waterville (2018); SCAD Museum of Art, Savannah (2017); Bass Museum of Art, Miami (2013); Brooklyn Museum, Brooklyn (2009); the Rubell Family Collection, Miami (2007) and etc. Important group exhibitions include the 53rd Venice Biennale (2009), the Whitney Biennial (2004) and etc.
His work is in many private collections as well as the permanent collections of the Art Gallery of Ontario, Brooklyn Museum of Art, Detroit Institute of Arts, Hirschhorn Museum and Sculpture Garden, Museum of Contemporary Art, Los Angeles, Museum of Contemporary Art, North Miami, Museum of Fine Arts, Boston, Museum of Modern Art, New York, Philadelphia Museum of Art, San Francisco Museum of Modern Art, and the Whitney Museum of American Art.
Exhibitions at Yuz Museum are organized in partnership with the Los Angeles County Museum of Art and Qatar Museums


This exhibition is organized by Yuz Museum in collaboration with Space K, Seoul.
About Yuz Museum

Yuz Museum Shanghai, officially opened in May of 2014, is a contemporary art museum founded by Mr. Budi Tek, a Chinese-Indonesian entrepreneur, philanthropist and collector. The museum is located on Shanghai's West Bund and plays an important role in the West Bund Cultural Corridor. Yuz Museum is committed to drawing the world's attention to Shanghai, advancing the development of contemporary Chinese art, actively engaging in the field of art education, and promoting cultural dialogues between East and West. As a non-profit institution, the museum aims to serve as a leader in exhibiting contemporary Chinese art and to build a preeminent reputation for contemporary art in China. Designed by acclaimed Japanese architect, Sou Fujimoto, the museum was renovated from an old hangar of the former Shanghai Aircraft Manufacturing Factory.
Location: 35 Fenggu Rd, Xuhui District, Shanghai, China 200232. yuzmshanghai.org
Press Contact: For additional information, contact YUZ Communications at press@yuzmshanghai.org or +86 021-64261901
About LACMA

Located on the Pacific Rim, LACMA is the largest art museum in the western United States, with a collection of nearly 142,000 objects that illuminate 6,000 years of artistic expression across the globe. Committed to showcasing a multitude of art histories, LACMA exhibits and interprets works of art from new and unexpected points of view that are informed by the region's rich cultural heritage and diverse population. LACMA's spirit of experimentation is reflected in its work with artists, technologists, and thought leaders as well as in its regional, national, and global partnerships to share collections and programs, create pioneering initiatives, and engage new audiences.
Location: 5905 Wilshire Boulevard, Los Angeles, CA, 90036. lacma.org
Press Contact: For additional information, contact LACMA Communications at press@lacma.org or 323 857-6522
About Qatar Museums

Qatar Museums (QM), the nation's preeminent institution for art and culture, provides authentic and inspiring cultural experiences through a growing network of museums, heritage sites, festivals, public art installations, and programmes. QM preserves,restores,and expands thenation'scultural offeringsand historical sites, sharing art and culture from Qatar, the Middle East, North Africa, and South Asia (MENASA) region with the world and enriching the lives of citizens, residents, and visitors.
Under the patronage of His Highness the Amir, Sheikh Tamim bin Hamad Al Thani, and led by its Chairperson, Her Excellency Sheikha Al Mayassa bint Hamad bin Khalifa Al Thani, QM has made Qatar a vibrant centre for the arts, culture, and education in the Middle East and beyond. QM is integral to the goal of developing an innovative, diverse, and progressive nation, bringing people together to ignite new thinking, spark critical cultural conversations,educate and encourage environmental stewardship and sustainable practices, and amplify the voices of Qatar's people. Since its founding in 2005, QM has overseen the Museum of Islamic Art and MIA Park, Mathaf: Arab Museum of Modern Art, the National Museum of Qatar, QM Gallery Al Riwaq, QM Gallery Katara, and the Tasweer Qatar Photo Festival. Future projects include the soon to open 3-2-1 Qatar Olympic and Sports Museum, and Dadu, Children's Museum of Qatar.
Through its newly created Creative Hub, QM also initiates and supports projects—such as the Fire Station Artist in Residence, the Tasweer Qatar Photo Festival and the creative hub for innovation, fashion and design M7—that nurture artistic talent and create opportunities to build a strong and sustainable cultural infrastructure.
Animating everything that Qatar Museums does is an authentic connection to Qatar and its heritage, a steadfast commitment to inclusivity and accessibility, and a belief in creating value through invention.