The Dance of Icarus

Yuz Museum, West Bund Shanghai
November 12, 2017 – January 21, 2018

"I imagined this flying figure, is he dancing, is he falling? The paintings are about movement, dancing between stumbling and flying…There is no land."
——Claire Tabouret
Yuz Museum is pleased to announce Claire Tabouret's first major exhibition in China, "The Dance of Icarus," from November 12, 2017 to January 21, 2018 at Yuz Project Space of Art. Comprised of 44 paintings and works on paper, the exhibition marks a departure from Tabouret's stately posed portraits toward images of dynamism and spontaneity.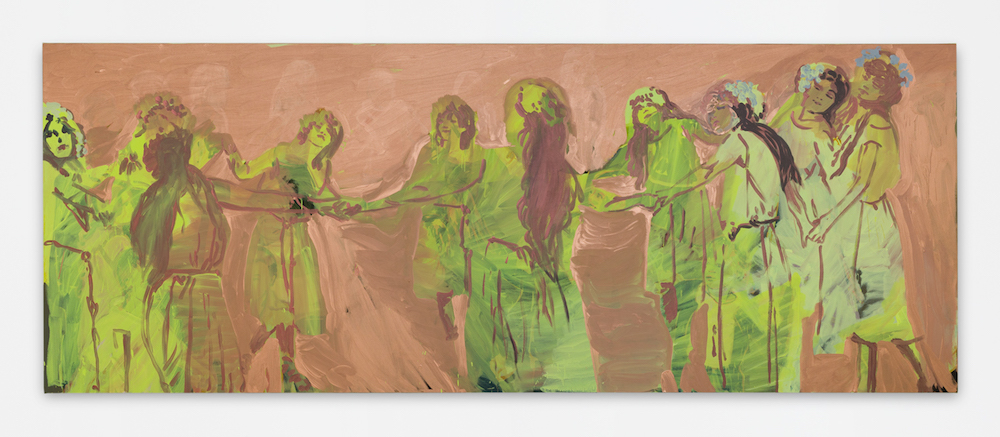 Claire Tabouret
Circle Dance (gold sun)
Acrylic on canvas, 160×420 cm
2017
Courtesy of the Artist and Night Gallery, Los Angeles
Photo by Jeff Mclane

Born in 1981, now working between Paris and Los Angeles, Claire Tabouret supplements her tags with figurative paintings such as crowds of adolescents, young girls with smeared make up, historical figures like Agnes Martin, Robert Walser, etc. Her interventions, according to Trinie Dalton, "locate tensions between classical art (consider this exhibition's title, 'The Dance of Icarus'), Rococo, Neoclassicism, Romanticism, Fauvism, Realism, Modernism, Postmodernism, and the contemporary – finding veins of continuity that both highlight and obliterate trajectory, like quartz vugs in granite."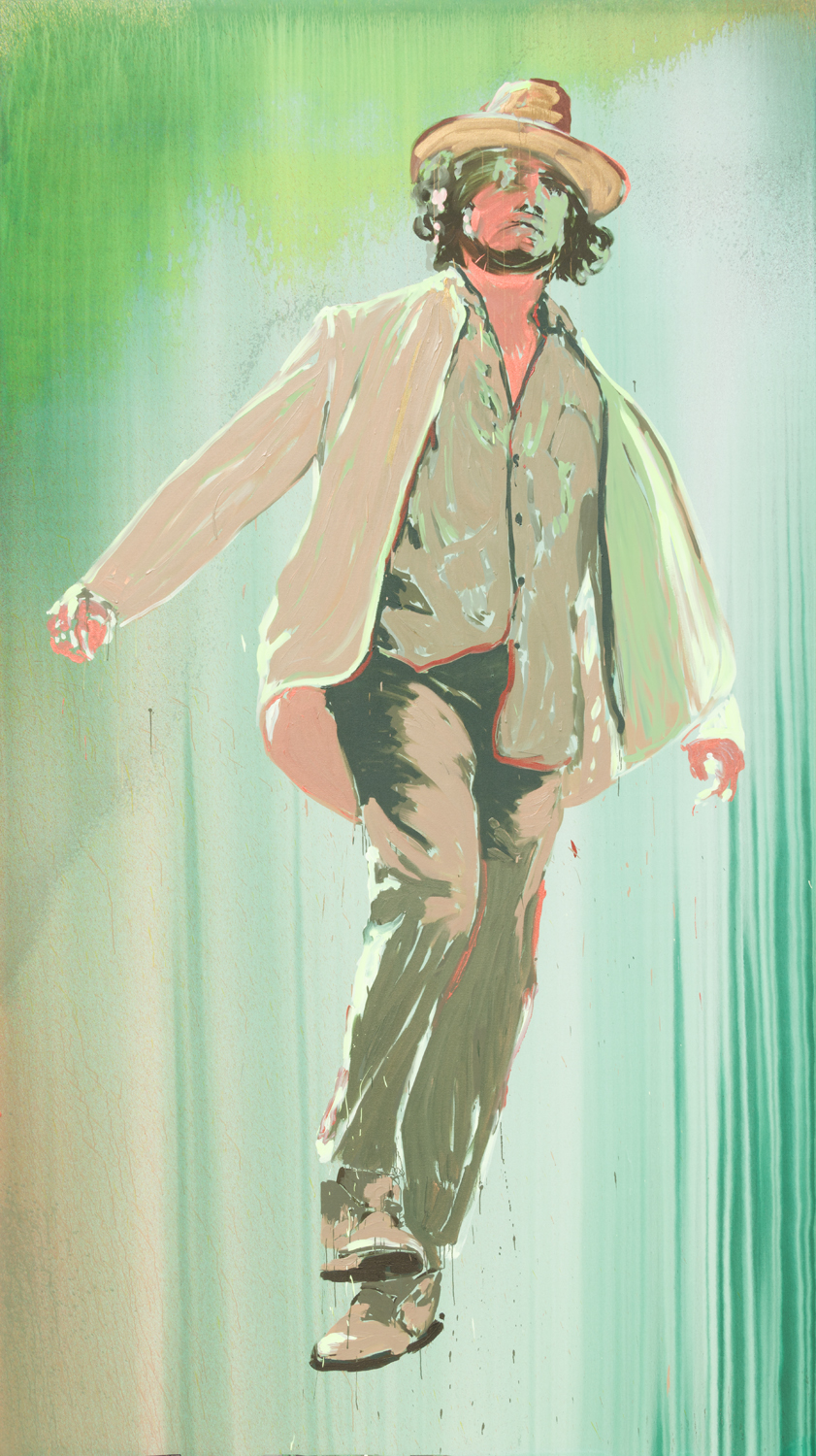 Claire Tabouret
The Dance of Icarus 3
Acrylic on canvas, 500×280 cm
2017
Courtesy of the Artist and Night Gallery, Los Angeles
Photo by Jeff Mclane

In the atrium of the museum, suspended above the visitor, Tabouret will present her most monumental series to date, The Dance of Icarus – a new interpretation of the Greek myth about Icarus. Across four massive panels, a larger-than-life figure spins, weightlessly dancing across canvases washed in vibrant color. Rhythmically rising and falling, the figure is captured in a dream-like trance, frozen in time but in a state of perpetual motion. He animates the atrium as he ushers the viewer from one canvas to the next in a circle around the room, mimicking his gesture.
Claire Tabouret
Makeup (and feathers)
Acrylic on wood panel, 61 x 45.5 cm
2017
Courtesy of the Artist and Night Gallery, Los Angeles
Photo by Jeff Mclane

In the two galleries, Tabouret will bring us her Make Up portraits, Circle Dance series and thirty monoprints that served as studies for The Dance of Icarus, where the loss of control runs through all these new paintings. The artist developed her practice by using the iridescent colors. Gold, copper and neon that have typically flickered through the background of her artworks here appear in the foreground, creating a new light, which refers to the light of thoughts and the light of dreams.
Tabouret's figurative works collapse the notions of linear time and objective reality, recalling the ability of aesthetic experiences to conjure profound and perhaps otherwise untapped depths of humanity.
The exhibition will be open on November 12 with an artist's talk, and run through January 21, 2018.

About the artist

Claire Tabouret, the artist
Courtesy of the Artist and Night Gallery, Los Angeles
Photo by Logan White

Born in 1981 in Pertuis, France, Claire Tabouret received her BFA from École Nationale Supérieure des Beaux-Arts, Paris, France in 2006. Her recent institutional solo exhibitions include "One Day I Broke a Mirror," with Yoko Ono, Villa Medici, Rome, Italy, 2017; "Sparkling Ghosts," Museo Pietro Canonica a Villa Borghese, Rome, Italy, 2016; "Duel au soleil," Le Parvis centre d'art contemporain, Tarbes, France, 2015; "Le regard, dedans, dehors," Chapelle de La Visitation, Thonon-Les-Bains, France, 2014, and many more. Tabouret has been included in the following group shows: "Peindre, dit-elle-Chap 2," Musée des Beaux-Arts, Dole, France, 2017; "Face to Face," Palazzo Fruscione, Salerno, Italy, 2016; "Portraits from the École des Beaux-Arts Paris," Drawing Center, New York, 2015; "L'illusion des Lumieres," Palazzo Grassi, Venice, Italy, 2014, among others. Her work has been acquired by major collections and is notably part of the Los Angeles County Museum of Art (LACMA), Ecole nationale supérieure des Beaux-Arts de Paris, Collection Pinault, Hort Mann Foundation, Agnès b. as well as others. Tabouret lives and works in Los Angeles.

About Yuz Project Space of Art

Yuz Project Space of Art is a new independent program of Yuz Museum's exhibitions, which opened to the public in September 2015. Yuz Project Space of Art invites artists to make site-specific works or projects, engaging boldly with the museum, its surroundings and its audience. Combining "a project + an exhibition", the artist interacts actively with the space and aims to present the moment when contemporary art is happening.
Yuz Project Space of Art is the place where innovation, invention, and a new movement happen in the pathway of an artist. It aims to provide another platform for Chinese and international artists to exhibit their artworks as well as more opportunities to communicate with each other. Yuz Project Space of Art invites the artist to get inspired with new ideas by engaging the artist with the museum space and try to make some break-through artworks that are different from his own line.
Download: Children Booklet