Yuz Project Space of Art

Ivy Haldeman: Pictures for Use and Pleasure

Yuz Museum, West Bund, Shanghai

September 24 – November 13, 2022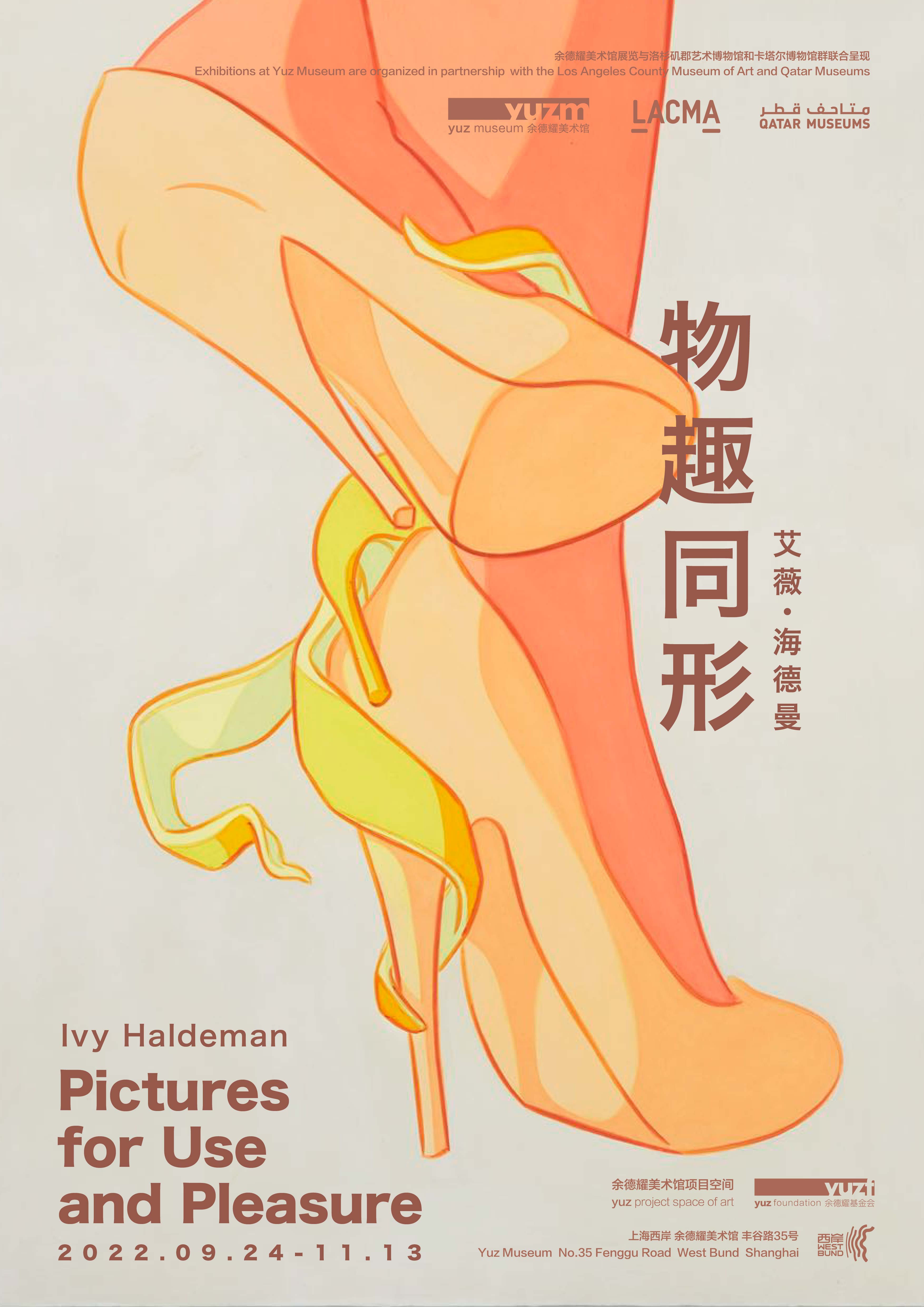 Yuz Museum is pleased to present "Ivy Haldeman: Pictures for Use and Pleasure," the first institutional solo exhibition of the New York–based artist in Mainland China, from September 24th to November 13th, 2022 at the Yuz Project Space of Art. Haldeman's Pop art-inflected visual idiom draws from storefront advertising and commercial tropes. She is a keen observer of mass media and the way it prefigures the visual and experiential patterns of contemporary urbanity. Through classic symbols like hotdogs and business suits, the artist makes images and concepts shift and pivot like a hinge, reconstructing and integrating issues of body, desire, culture, and identity across far- reaching historical and intercultural frames.
Inspired by Greek vase drawings, Roman colossal sculpture, Ukiyo-e prints, and paintings of gentlewomen in the Ming and Qing Dynasty, Haldeman's spare yet witty paintings expand the meaning of standardized industrial products and depict modern mythologies. Commodities are transformed into carriers of metaphor and allegory, and everyday objects take on whimsy,sensuality, and weirdness. Her work creates new
symbols that are at once collective, hybrid, and personal. Haldeman magnifies the social properties of everyday objects by reinterpreting the social relations of production and reproduction of these objects. Her work recalls Marx's writing in Comments on James Mill (1844): "Our products would be so many mirrors in which we saw reflected our essential nature."
In this exhibition, Haldeman positions and probes her subjects across "the boardroom" and "the powder room", two complementary sites, whose narratives articulate dialectical relations between labor and rest, abstraction and embodiment, and (to borrow the scholar James Cahill's phrase in his discussion of Chinese vernacular painting) "use and pleasure." The artist applies acrylic paints, a liquid plastic, to create, in her words, "awkward, consumable bodies," and "self-possessed" objects. Through these subjects, the artist explores the boundaries between self-consciousness and identity while capturing the ephemeral essence of urban life as described by Lefebvre: "The urban is a highly complex field of tensions, a virtuality, a possible-impossible that attracts the accomplished, an ever-renewed and always demanding presence-absence."
About the artist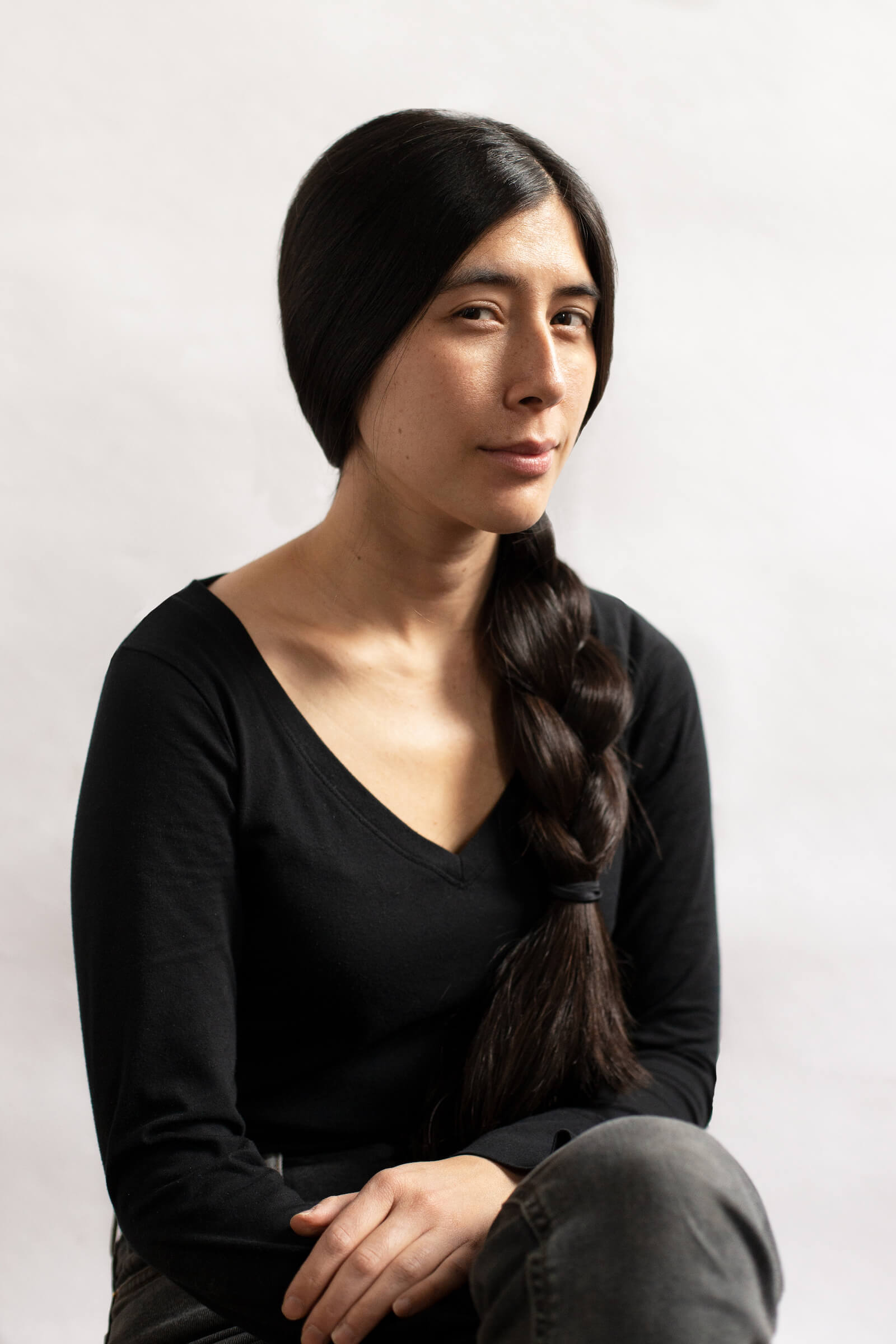 Ivy Haldeman (b. 1985, Aurora, CO; lives and works in New York) gained her BFA from The Cooper Union for the Advancement of Science and Art in 2008. Selected solo presentations: "Twice", Downs & Ross, New York, 2021; "Hello, the Future Is Certain", Francois Ghebaly Gallery, Los Angeles, 2020; "(Hesitate)", Capsule, Shanghai, 2019. Selected group exhibitions: "When Above", Downs & Ross, New York, 2020; "A Love Letter to a Nightmare", Petzel Gallery, New York, 2020; "Personal Private Public", Hauser & Wirth, New York, 2019; "Throwback Jack", Fredericks & Freiser, New York, 2019; "Noise! Frans Hals, Otherwise", Frans Hals Museum, Haarlem, 2018;"The Sun is Gone But We Have The Light", Gavin Brown's Enterprise, Hancock, New York, 2018; "Body So Delicious", Reyes Projects, Birmingham, MI, 2018; "Eye to Eye", Arsenal Contemporary, New York, 2018; and "The Curator's Egg", Paul Kasmin Gallery, New York, 2017. Her practice is the subject of extensive reviews in publications including Artforum, Artnet News, The Brooklyn Rail, The New Yorker, The New York Times, The New York Times T Style Magazine, Observer, Vice Magazine China, and W Magazine. Haldeman's work is included in significant public and private collections internationally including the Dallas Museum of Art, Denver Museum of Art, ICA Miami and X Museum, among numerous others.
About Yuz Project Space of Art

Yuz Project Space of Art (PSA) is an independent program launched in partnership with Yuz Museum in September 2015. Known for public-access, Yuz Project Space of Art invites artists to create site-specific works or projects where it engages boldly with the museum, the surroundings and audiences. Combining "a project + an exhibition," the program aims to present the interaction between the artists, time, and space.
Yuz Project Space of Art is where innovation and creation cross path. It provided an innovative platform for artists, both Chinese and international, to use this space to generate conversations toward each other with their own unique and groundbreaking artworks. Furthermore, the space invites artists to breakthrough their usual practice and explore all kinds of possibilities of Contemporary art.
Exhibitions at Yuz Museum are organized in partnership with LACMA and Qatar Museums


About Yuz Museum

Yuz Museum Shanghai, officially opened in May of 2014, is a contemporary art museum founded by Mr. Budi Tek, a Chinese-Indonesian entrepreneur, philanthropist and collector. The museum is located on Shanghai's West Bund and plays an important role in the West Bund Cultural Corridor. Yuz Museum is committed to drawing the world's attention to Shanghai, advancing the development of contemporary Chinese art, actively engaging in the field of art education, and promoting cultural dialogues between East and West. As a non-profit institution, the museum aims to serve as a leader in exhibiting contemporary Chinese art and to build a preeminent reputation for contemporary art in China.
Press Contact: For additional information, contact YUZ Communications at press@yuzmshanghai.org or +86 021-64261901
About LACMA

Located on the Pacific Rim, LACMA is the largest art museum in the western United States, with a collection of nearly 142,000 objects that illuminate 6,000 years of artistic expression across the globe. Committed to showcasing a multitude of art histories, LACMA exhibits and interprets works of art from new and unexpected points of view that are informed by the region's rich cultural heritage and diverse population. LACMA's spirit of experimentation is reflected in its work with artists, technologists, and thought leaders as well as in its regional, national, and global partnerships to share collections and programs, create pioneering initiatives, and engage new audiences.
Location: 5905 Wilshire Boulevard, Los Angeles, CA, 90036. lacma.org
Press Contact: For additional information, contact LACMA Communications at press@lacma.org or 323 857-6522
About Qatar Museums

Qatar Museums (QM), the nation's preeminent institution for art and culture, provides authentic and inspiring cultural experiences through a growing network of museums, heritage sites, festivals, public art installations, and programmes. QM preserves, restores, and expands the nation's cultural offerings and historical sites, sharing art and culture from Qatar, the Middle East, North Africa, and South Asia (MENASA) region with the world and enriching the lives of citizens, residents, and visitors.
Under the patronage of His Highness the Amir, Sheikh Tamim bin Hamad Al Thani, and led by its Chairperson, Her Excellency Sheikha Al Mayassa bint Hamad bin Khalifa Al Thani, QM has made Qatar a vibrant centre for the arts, culture, and education in the Middle East and beyond. QM is integral to the goal of developing an innovative, diverse, and progressive nation, bringing people together to ignite new thinking, spark critical cultural conversations, educate and encourage environmental stewardship and sustainable practices, and amplify the voices of Qatar's people. Since its founding in 2005, QM has overseen the Museum of Islamic Art and MIA Park, Mathaf: Arab Museum of Modern Art, the National Museum of Qatar, QM Gallery Al Riwaq, QM Gallery Katara, and the Tasweer Qatar Photo Festival. Future projects include the soon to open 3-2-1 Qatar Olympic and Sports Museum, and Dadu, Children's Museum of Qatar.
Through its newly created Creative Hub, QM also initiates and supports projects—such as the Fire Station Artist in Residence, the Tasweer Qatar Photo Festival and the creative hub for innovation, fashion and design M7—that nurture artistic talent and create opportunities to build a strong and sustainable cultural infrastructure.
Animating everything that Qatar Museums does is an authentic connection to Qatar and its heritage, a steadfast commitment to inclusivity and accessibility, and a belief in creating value through invention.