Yoshitomo Nara

Yuz Museum, West Bund, Shanghai

March 5th, 2022- January 2nd, 2023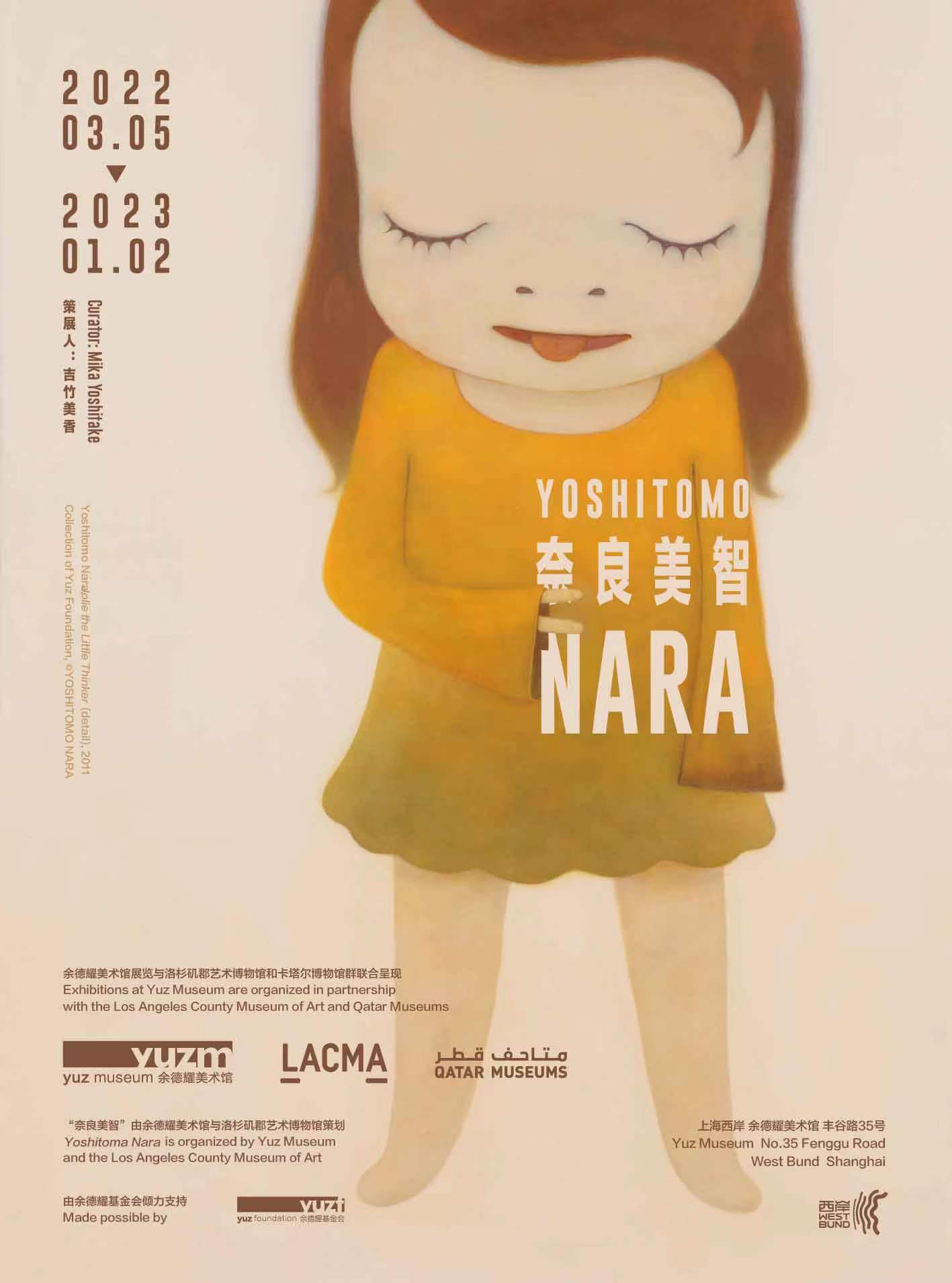 Yuz Museum Shanghai proudly announces a major survey exhibition of the Japanese artist Yoshitomo Nara (b.1959) on view at Yuz Museum from March 5th to January 2nd, 2023. It is not only the artist's first solo exhibition in Mainland China and a highlight of ART WEST BUND 2022 SS, but also his first international retrospective. Organized by Yuz Museum and the Los Angeles County Museum of Art (LACMA) in close collaboration with the artist and the curator Mika Yoshitake, "Yoshitomo Nara" will feature more than 70 major works, including paintings, sculptures, ceramics, installations, and 700 works on paper including never-before-exhibited sketches, comprising a comprehensive overview of the artist's prolific career spanning more than 37 years.
Yoshitomo Nara is among the most beloved artists of his generation, known for his portraits of vaguely ominous-looking figures with penetrating gazes and occasionally wield knives or cigarettes, as well as heads and figures that float in dreamy landscapes. Nara's oeuvre reflects the artist's raw encounters with his inner self, taking inspiration from a wide range of resources – memories of his childhood, music, literature, studying and living in Germany (1988-2000), exploring his roots in Asia and Sakhalin, and modern art from Europe and Japan.
Spanning from 1984 to 2021, the exhibition views the artist's work through the lens of his longtime passion: music. Music's ability to convey emotional depth and atmospheric power finds a parallel in Nara's artworks, which combine visuality, emotion, and often text, and have evolved dramatically from his earliest allegorical paintings to his more recent portraits. Nara's paintings from the 1990s and 2000s, in particular, are marked by layered brushwork and a kaleidoscopic palette. They stand in contrast to both the rougher DIY aesthetic of his earlier works on paper and the smooth, highly polished fiber-reinforced plastic used in his early sculpture. Expressing a kinship with the rawness of folk music, Nara has said, "lf viewers are able to see beyond the impulsive and surface-level impact of [my] work, and sense a moving quietude and depth, then, no doubt, these effects are influenced by such music."
Nara's work took a dramatic shift following the March 2011 Tōhoku earthquake and tsunami and the Fukushima Daiichi nuclear disaster, which occurred only forty-three miles north of his studio. Emotionally affected by the aftermath, Nara shifted to a much more contemplative mode, making ceramics and casting bronze sculptures of large rotund or oblong heads whose uneven surfaces reflect the tactile workings of the artist's hands. Their serene expressions are reminiscent of the cast impression of death masks, invoking the ghosts of the thousands who had died in these recent tragedies. This exhibition will dedicate a special presentation in the soaring museum great hall to "Yoshitomo Nara's Sculpture Park", including a selection of bronze works and FRP prototypes on a site-specific platform designed by Studio Adrien Gardère, reflecting the artist's empathic eye. Through his quiet and meditative works, the exhibition also aims to reset some of the dominant perceptions of Nara's work by shifting the focus toward the self-critical introspection and individuality that have become more prevalent in the last decade.
About the Artist

Born in 1959, Yoshitomo Nara grew up in Hirosaki, Aomori. Having graduated with an MFA from the Aichi Prefectural University of Fine Arts and Music, Nagakute, Japan, in 1987, he completed his studies at the Kunstakademie, Düsseldorf, Germany, in 1993. Nara began his career during the decade he spent in Cologne, and from the mid-1990s he exhibited widely in Europe, the United States, Japan, and all over Asia. His return to Japan in 2000 coincided with a surge of global interest in Japanese pop culture, particularly in the United States. While he is primarily a painter, his practice encompasses drawing; sculptures made of wood, FRP, ceramic, and bronze; installations that incorporate scrap materials; and photographs that document everyday landscapes and the encounters he has during his travels. Nara's numerous solo exhibitions include Yoshitomo Nara, Yuz Museum, Shanghai, China (2022), traveled from the Los Angeles County Museum of Art, Los Angeles, CA, USA (2021); Yoshitomo Nara: I Forgot Their Names and Often Can't Remember Their Faces but Remember Their Voices Well, Dallas, TX, USA (2021); Drawings—Last 31 Years, The Bastide Gallery, Château La Coste, Provence, France (2019); for better or worse: Works 1987–2017, Toyota Municipal Museum of Art, Toyota, Japan (2017); Life is Only One: Yoshitomo Nara, Asia Society Hong Kong Center, Hong Kong, China (2015); NARA Yoshitomo: a bit like you and me…, Yokohama Museum of Art, Yokohama, Japan, traveled to Aomori Museum of Art, Aomori, Japan, and Contemporary Art Museum, Kumamoto, Japan (2012); Nobody's Fool, Asia Society, New York, NY (2010); Yoshitomo Nara + graf, Baltic Centre for Contemporary Art, Gateshead, UK (2008); Yoshitomo Nara + graf, Museum of Contemporary Art, Den Haag, Netherlands (2007); From the Depth of My Drawer, Hara Museum of Contemporary Art, Tokyo, Japan (2004); Nothing Ever Happens, Museum of Contemporary Art, Cleveland, OH, USA (2003); and NARA Yoshitomo: I DON'T MIND, IF YOU FORGET ME., Yokohama Museum of Art, Yokohama, Japan (2001).
Exhibitions at Yuz Museum are organized in partnership with the Los Angeles County Museum of Art and Qatar Museums

Yoshitomo Nara is organized by Yuz Museum and the Los Angeles County Museum of Art
About Yuz Museum

Yuz Museum Shanghai, officially opened in May of 2014, is a contemporary art museum founded by Mr. Budi Tek, a Chinese-Indonesian entrepreneur, philanthropist and collector. The museum is located on Shanghai's West Bund and plays an important role in the West Bund Cultural Corridor. Yuz Museum is committed to drawing the world's attention to Shanghai, advancing the development of contemporary Chinese art, actively engaging in the field of art education, and promoting cultural dialogues between East and West. As a non-profit institution, the museum aims to serve as a leader in exhibiting contemporary Chinese art and to build a preeminent reputation for contemporary art in China. Designed by acclaimed Japanese architect, Sou Fujimoto, the museum was renovated from an old hangar of the former Shanghai Aircraft Manufacturing Factory.
Location: 35 Fenggu Rd, Xuhui District, Shanghai, China 200232. yuzmshanghai.org
Press Contact: For additional information, contact YUZ Communications at press@yuzmshanghai.org or +86 021-64261901
About LACMA

Located on the Pacific Rim, LACMA is the largest art museum in the western United States, with a collection of nearly 142,000 objects that illuminate 6,000 years of artistic expression across the globe. Committed to showcasing a multitude of art histories, LACMA exhibits and interprets works of art from new and unexpected points of view that are informed by the region's rich cultural heritage and diverse population. LACMA's spirit of experimentation is reflected in its work with artists, technologists, and thought leaders as well as in its regional, national, and global partnerships to share collections and programs, create pioneering initiatives, and engage new audiences.
Location: 5905 Wilshire Boulevard, Los Angeles, CA, 90036. lacma.org
Press Contact: For additional information, contact LACMA Communications at press@lacma.org or 323 857-6522
About Qatar Museums

Qatar Museums (QM), the nation's preeminent institution for art and culture, provides authentic and inspiring cultural experiences through a growing network of museums, heritage sites, festivals, public art installations, and programmes. QM preserves,restores,and expands thenation'scultural offeringsand historical sites, sharing art and culture from Qatar, the Middle East, North Africa, and South Asia (MENASA) region with the world and enriching the lives of citizens, residents, and visitors.
Under the patronage of His Highness the Amir, Sheikh Tamim bin Hamad Al Thani, and led by its Chairperson, Her Excellency Sheikha Al Mayassa bint Hamad bin Khalifa Al Thani, QM has made Qatar a vibrant centre for the arts, culture, and education in the Middle East and beyond. QM is integral to the goal of developing an innovative, diverse, and progressive nation, bringing people together to ignite new thinking, spark critical cultural conversations,educate and encourage environmental stewardship and sustainable practices, and amplify the voices of Qatar's people. Since its founding in 2005, QM has overseen the Museum of Islamic Art and MIA Park, Mathaf: Arab Museum of Modern Art, the National Museum of Qatar, QM Gallery Al Riwaq, QM Gallery Katara, and the Tasweer Qatar Photo Festival. Future projects include the soon to open 3-2-1 Qatar Olympic and Sports Museum, and Dadu, Children's Museum of Qatar.
Through its newly created Creative Hub, QM also initiates and supports projects—such as the Fire Station Artist in Residence, the Tasweer Qatar Photo Festival and the creative hub for innovation, fashion and design M7—that nurture artistic talent and create opportunities to build a strong and sustainable cultural infrastructure.
Animating everything that Qatar Museums does is an authentic connection to Qatar and its heritage, a steadfast commitment to inclusivity and accessibility, and a belief in creating value through invention.